Fresh Retreat Inspiration
Sleek, serene, and sophisticated. Self-care in luxurious spaces.
back to editorial
From an upscale spa to a beautifully modelled home oasis, these spaces are conceived to inspire a sense of tranquility. The gentle, serene ambiance consumes the senses: soft lighting, soothing music, a subtle fragrance, and a captivating decor.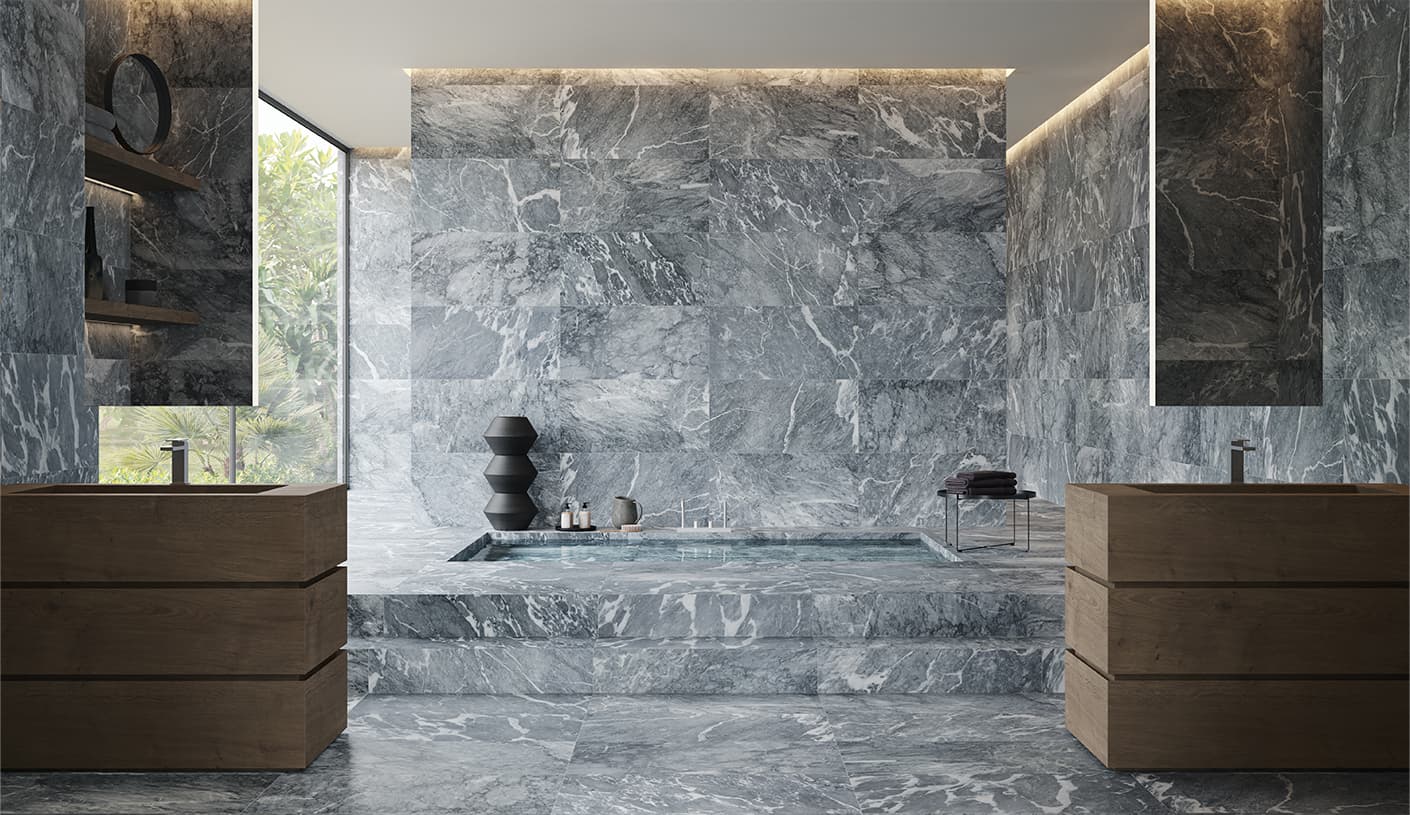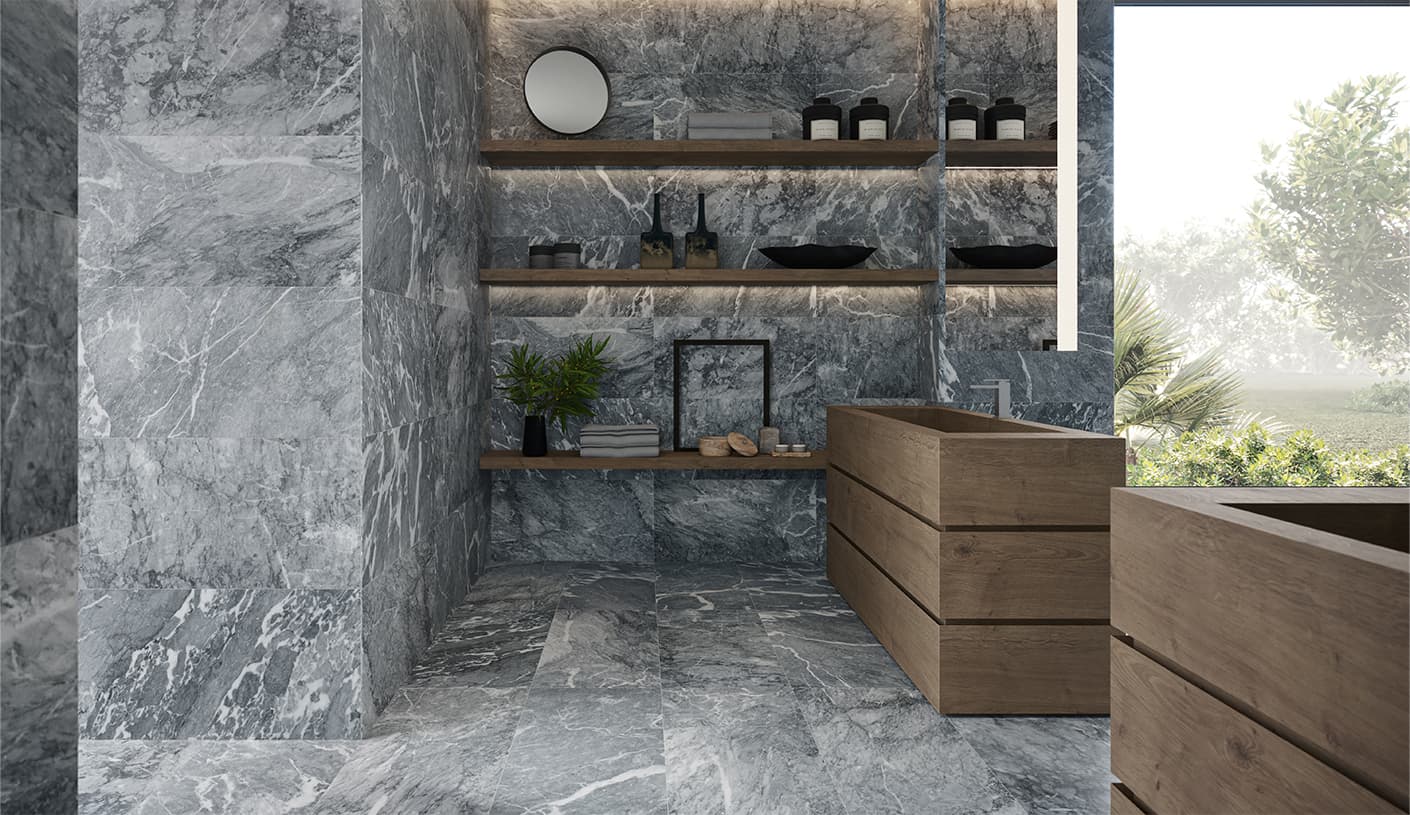 18 x 36 in / 45.7 x 91.4 cm Aqua Intenso Brushed Marble Tile
The Aqua Intenso collection of marble tiles captures the dynamism and movement of flowing water. Captivating gradient shades of cool greys - ranging from iridium to slate - effortlessly blend to convey a soothing visual quality accentuated by the brushed surface texture. The seductive veining and delicate hints of blue evoke the gentle rippling of water, an artful marble ocean to superbly complement a waterfall shower or private jacuzzi.
Timeless natural stones that confer a lasting sense of tranquility, beauty, and inner harmony.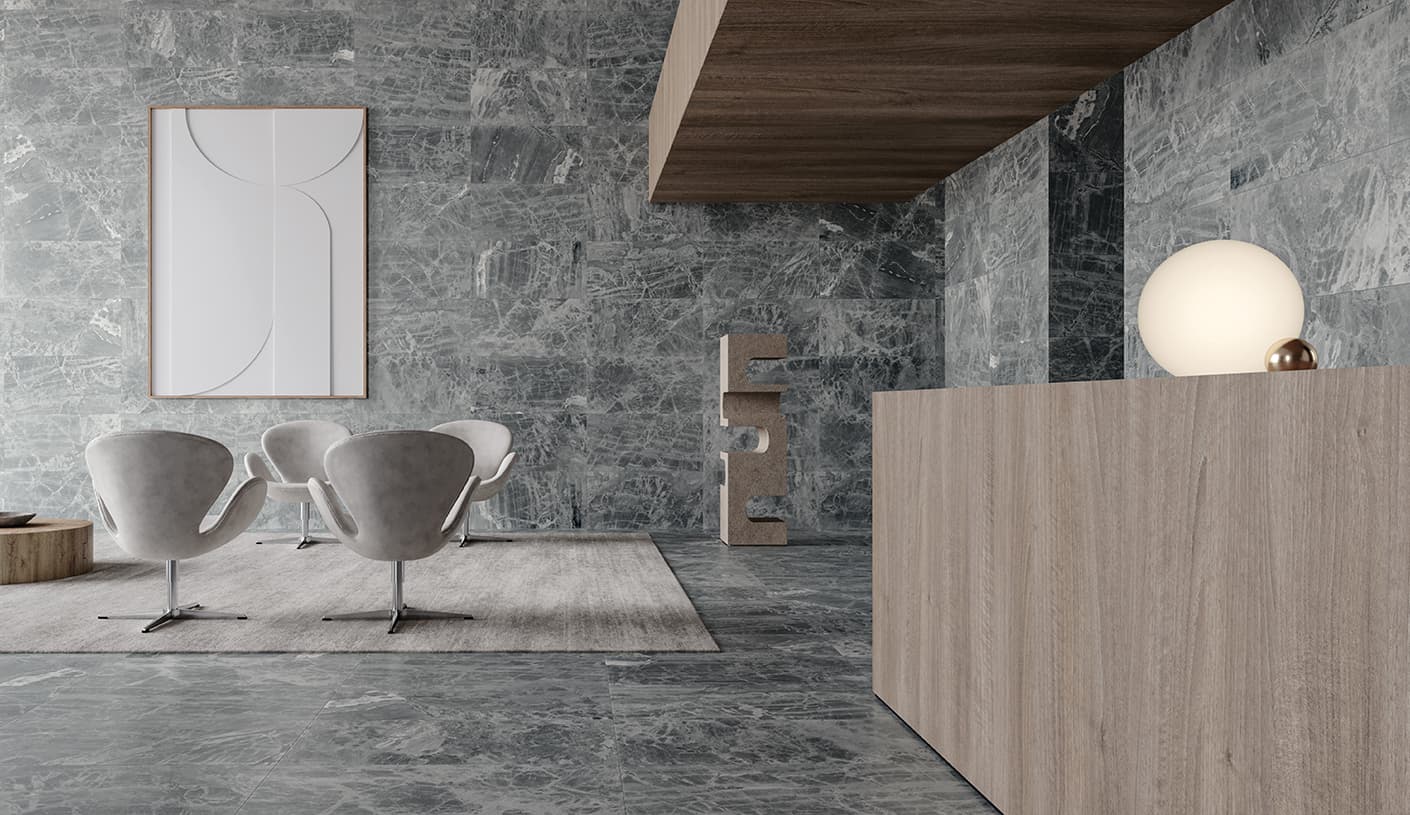 18 x 36 in / 45.7 x 91.4 cm Gemma Mystique Brushed Marble Tile
Aqua Intenso's rich appeal is mirrored by the intense hues of Gemma Mystique marble. The marriage of dark colors, light dynamic veins, and textured finish elevates the understated allure of this exclusive collection. As the brushed finish catches the light, it accentuates the marble's singular texture and porosity. Beautiful fossil markings and sinuous natural veining elevate its precious quality.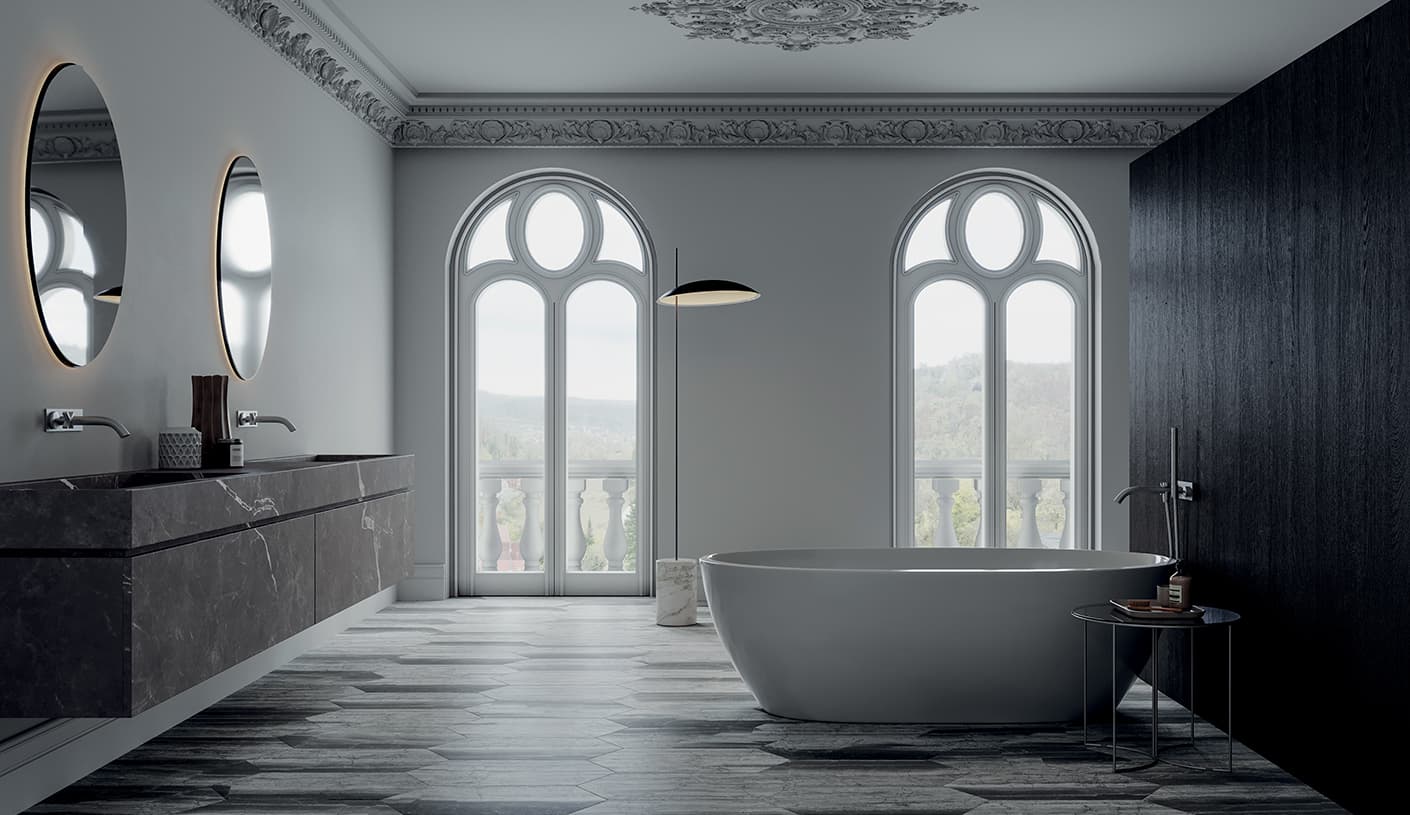 24 in / 60 cm Volcana Notte Picket Honed Marble Tile
Volcana Notte marble's majestic melange of warm earthen hues sets it apart, exuding an enigmatic yet bold quality. It's nuanced shades of beige, brown, and gray are only interrupted by the jagged veins conveying strength and elegance.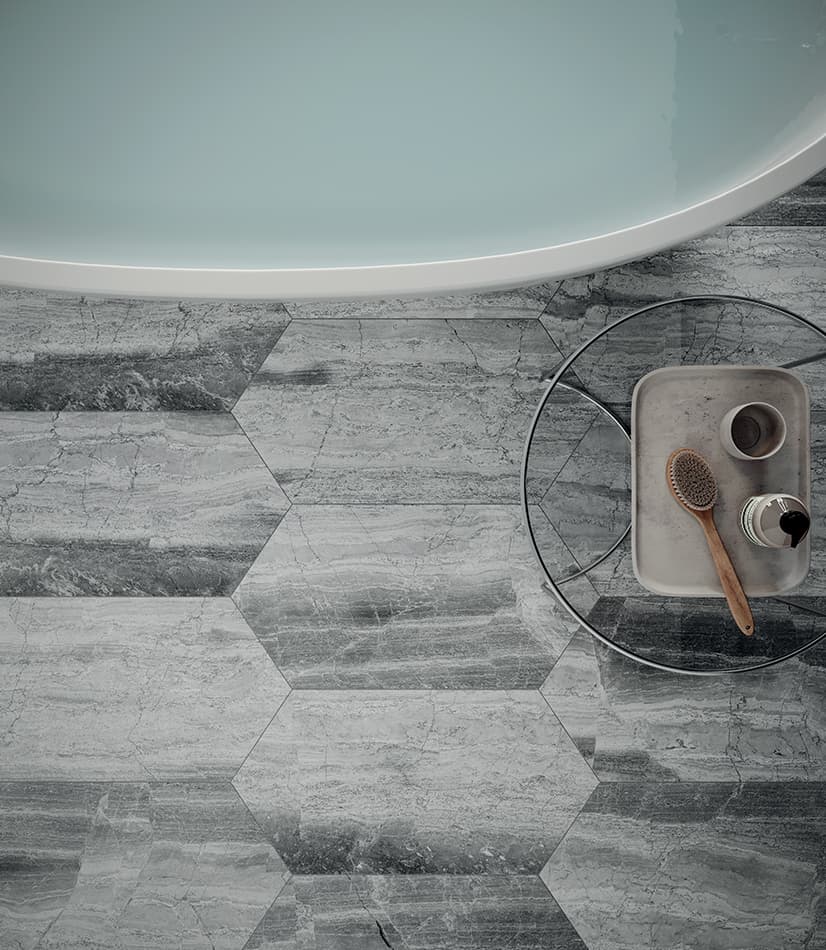 24 in / 60 cm Volcana Notte Picket Honed Marble Tile
Resplendent in its understated allure, this marble will confer a soothing, meditative feeling to a bathroom vanity, spa room, or wellness area.
Beautiful spaces that promote well-being.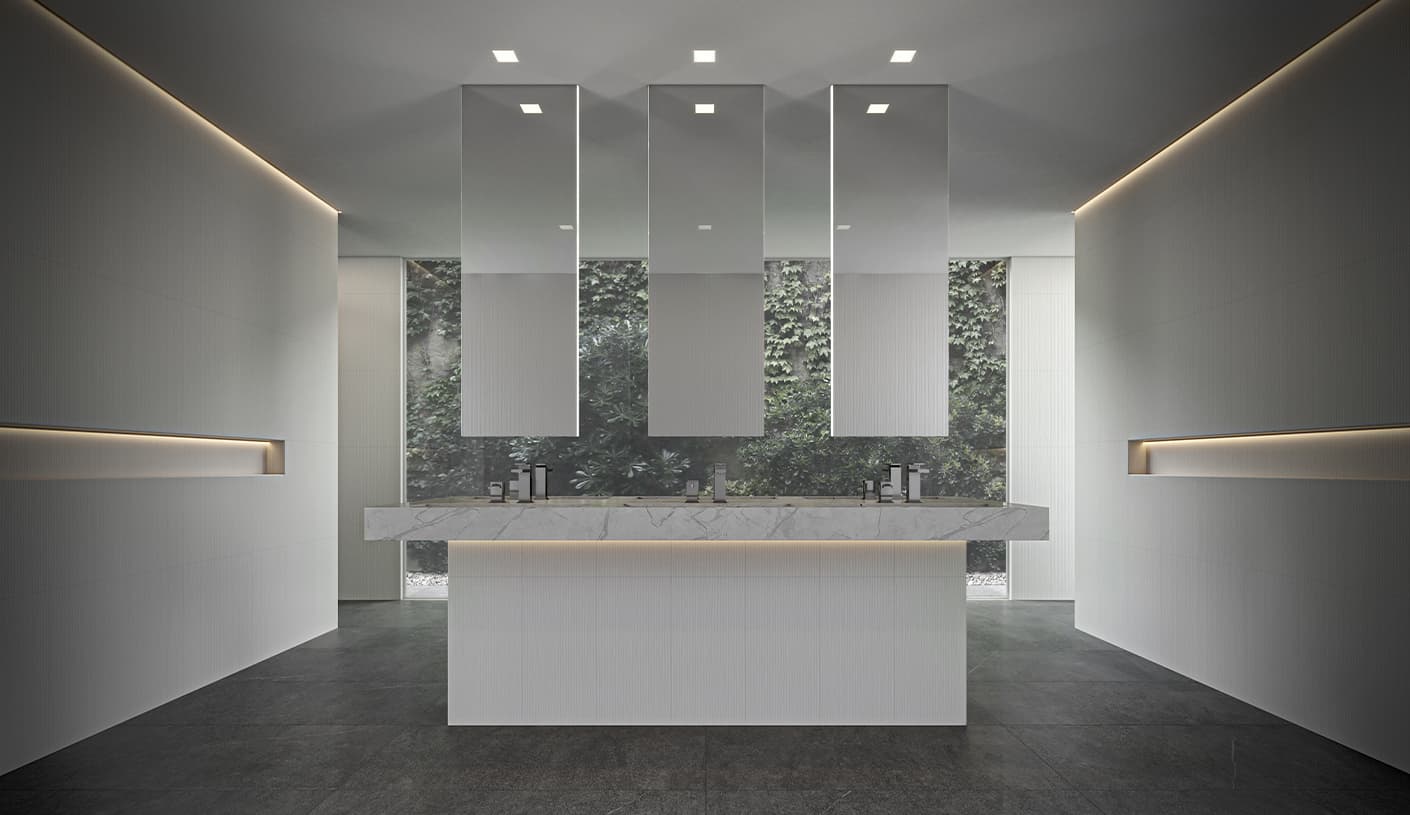 12 x 24 in / 30 x 60 cm Linea Amplitude Glossy
The dynamic intensity of these marbles is tempered by the quiet, eclectic charm of the Linea ceramic tiles. An homage to simplicity, this collection revisits the classic white tile with a modernist twist. The monochromatic surface is defined by hypnotic patterns, from soft curvilinear waves and sharp geometric forms evoking a melodic minimalist edge. Tracing the unconventional, three-dimensional shapes reveals a symphony of movement that entralls the senses.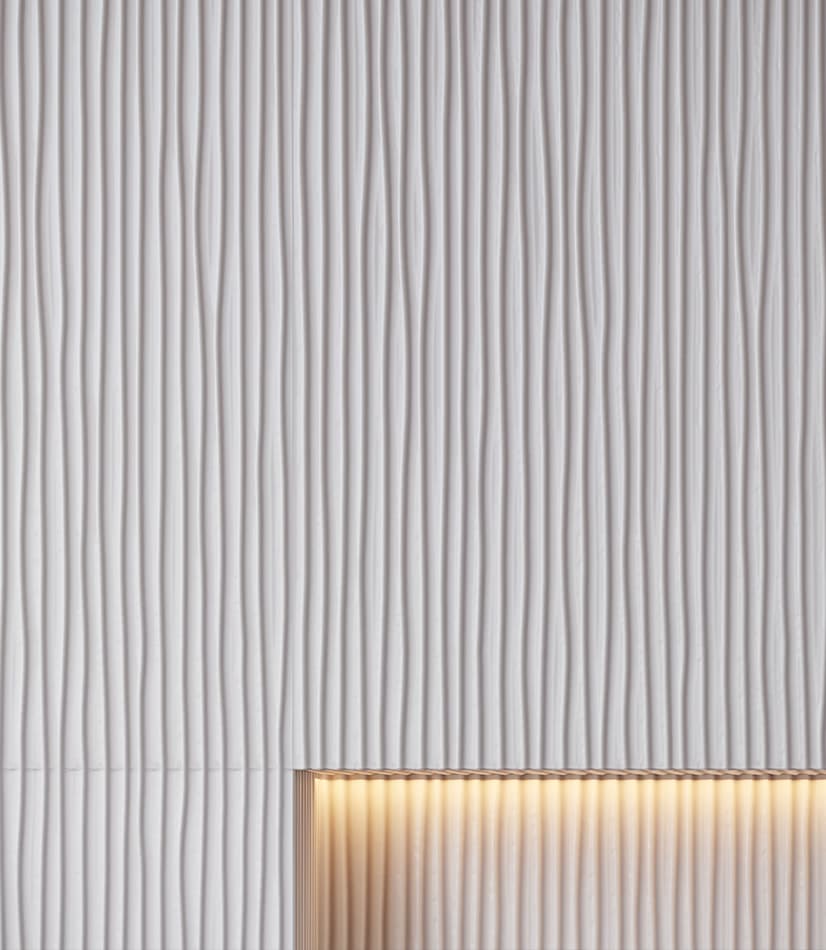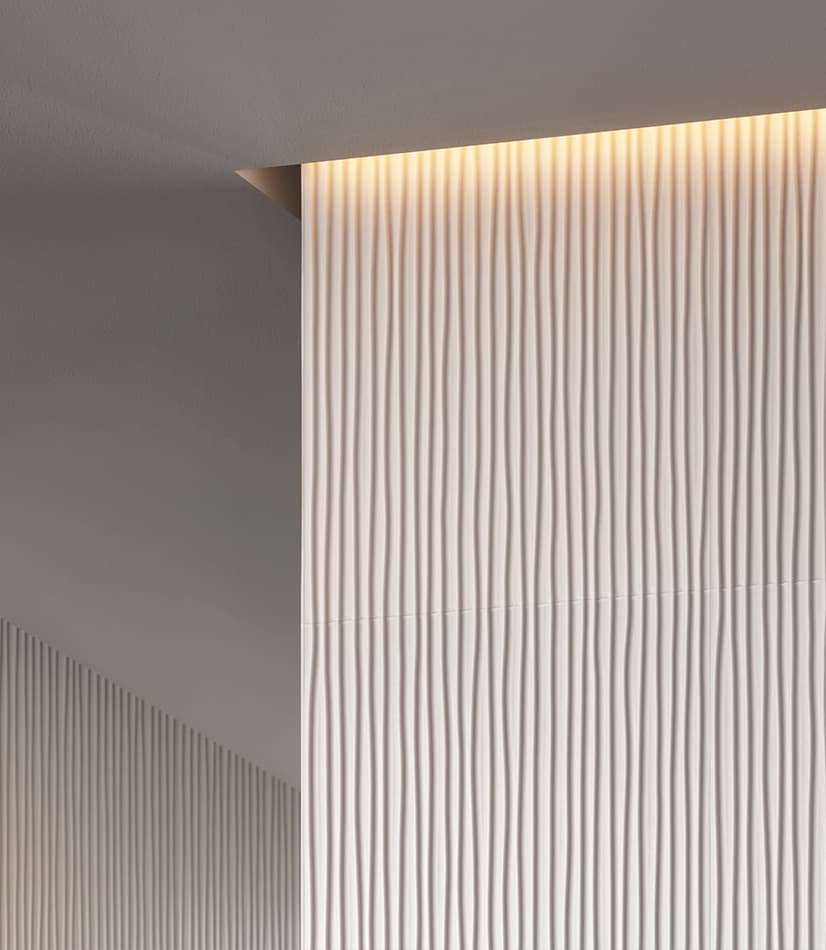 12 x 24 in / 30 x 60 cm Linea Amplitude Glossy
The seductive ambiance created by these collections is characterized by a dazzling kaleidoscope of colors, veins, shapes, and finishes, only matched by the endless variety of decor applications.
Indulge in sublime colors and soothing textures.