Wine Tasting House, Talking Rooms.
An exploration of rustic atmospheres and inviting landscapes.
back to editorial
The lush vineyards and meandering streams in the Tuscan countryside are only interrupted by quaint villas fashioned of natural stone and brick-red roofs. The rich color palette of natural beiges, reddish browns, and burgundies enriches the experience of sharing a glass or two of wine with loved ones.
Tiles and mosaics that tell a story.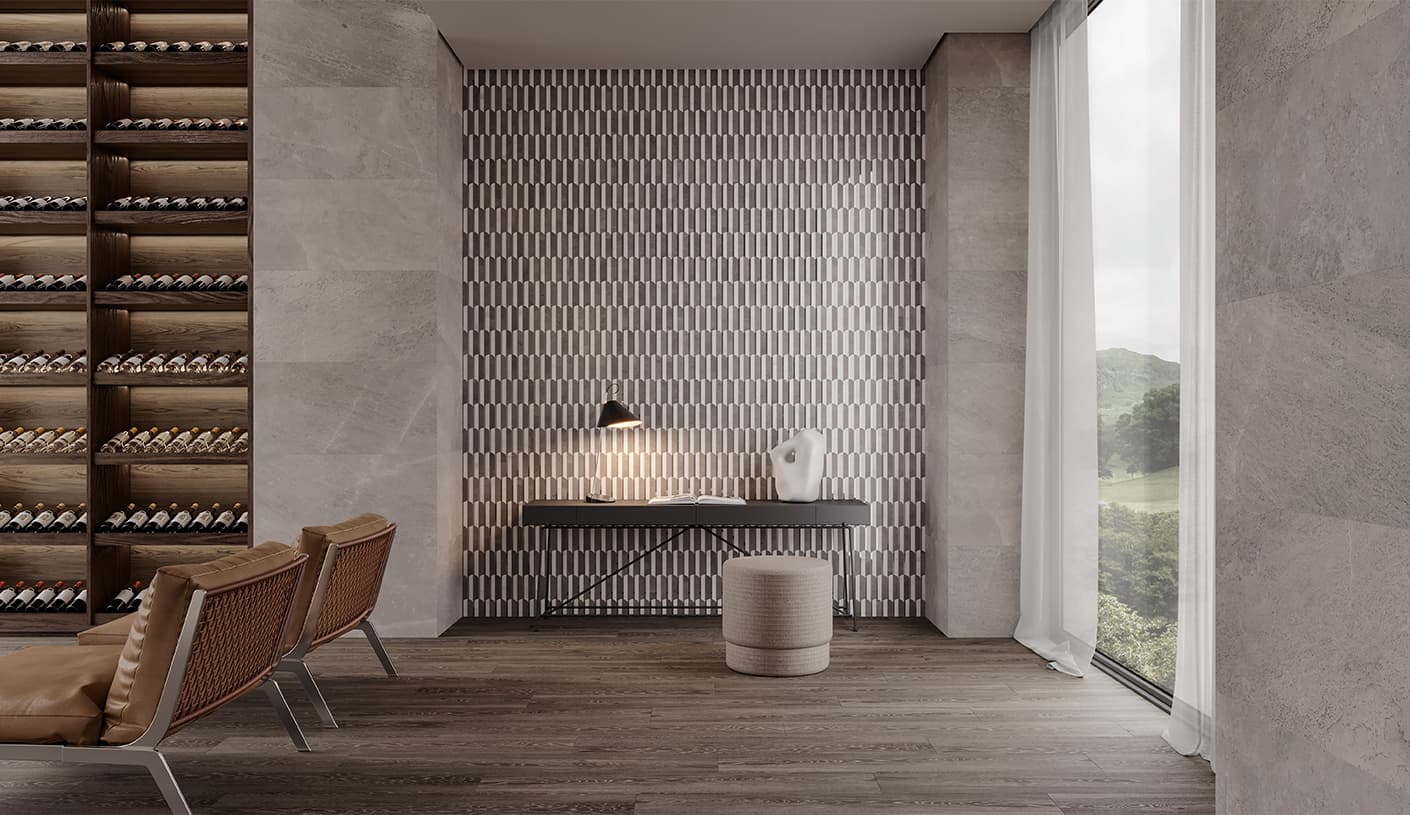 On the walls: 18 x 36 in / 45.7 x 91.4 cm Anciano Grigio Honed and Hydros Mist Utopio Artistry Mosaic. On the floor: 8 x 48 in / 19.7 x 120 cm Aspen Sequoia Matte.
Savoring wine is an enrapturing exploration of the senses, from seductive aromas to delightful flavors - a tasting room should be no different.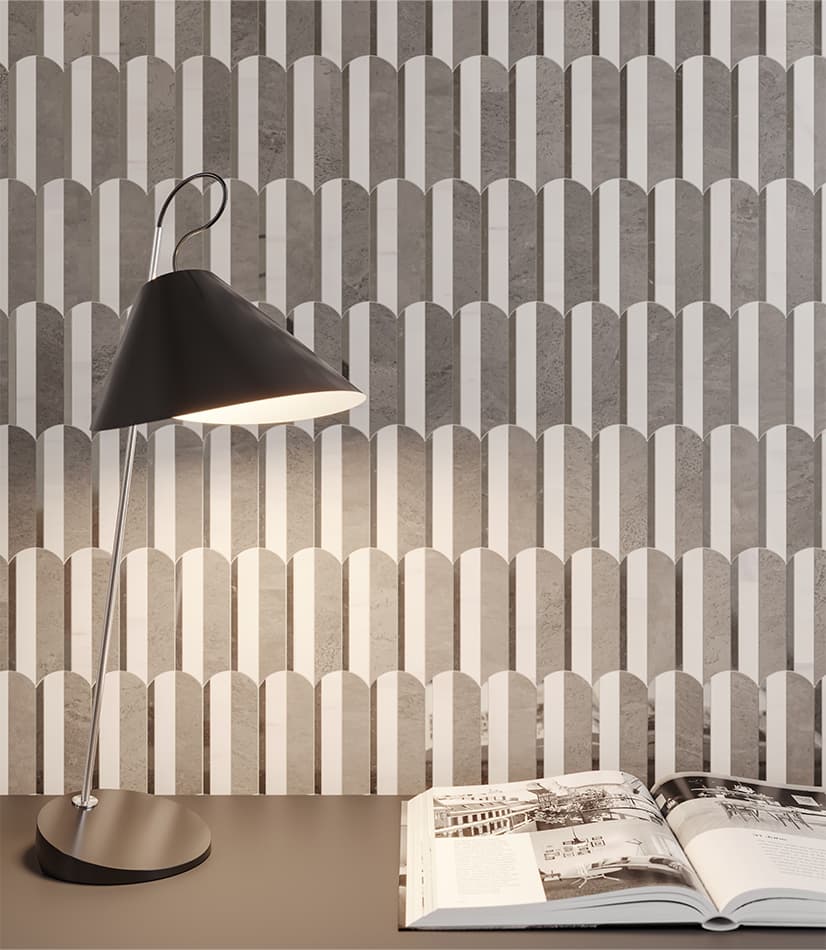 Hydros Mist Utopio Artistry Mosaic.
A sophisticated aura with delicate tones and serene veining, the Anciano Grigio marble walls define the soothing ambiance of the space. The gray marble tiles subtly contrast with the Hydros Utopio Artistry Mosaics, an expressive and expansive array of premium artistry mosaics that are specially curated to serve a broad spectrum of stylistic applications. The balanced combination of textures and colors is sealed by the silent protagonist, the Aspen Sequoia tiles: superbly capturing the nuances of natural hardwood floors in glazed porcelain, these tiles complement the wine racks and shelving units to add the final, unassuming touch.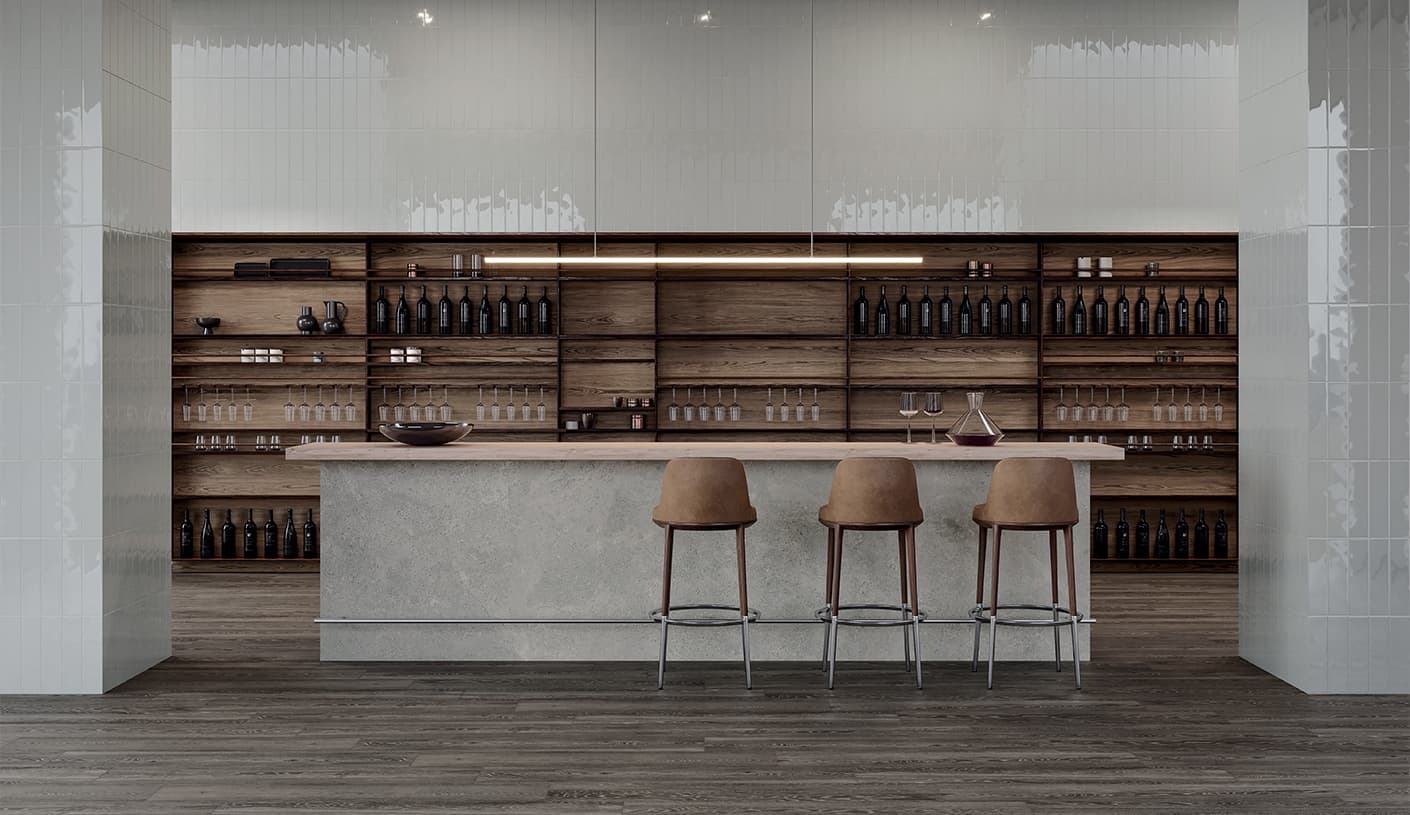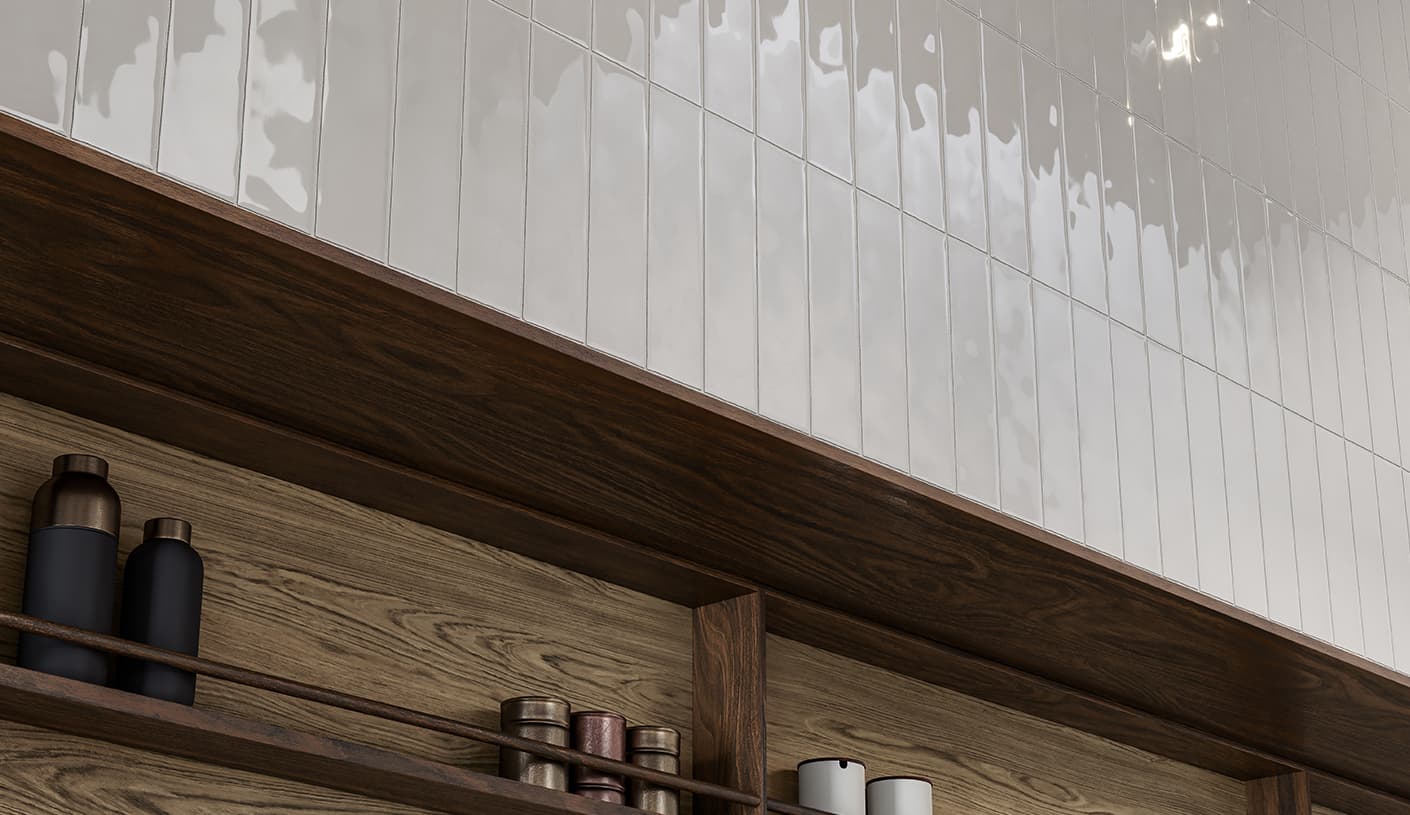 On the walls: 3 X 12 in / 7.5 X 30 cm Teramoda Stone Glossy. On the floor: 8 x 48 in / 19.7 x 120 cm Aspen Sequoia Matte.
8 x 48 in / 19.7 x 120 cm Aspen Sequoia Matte.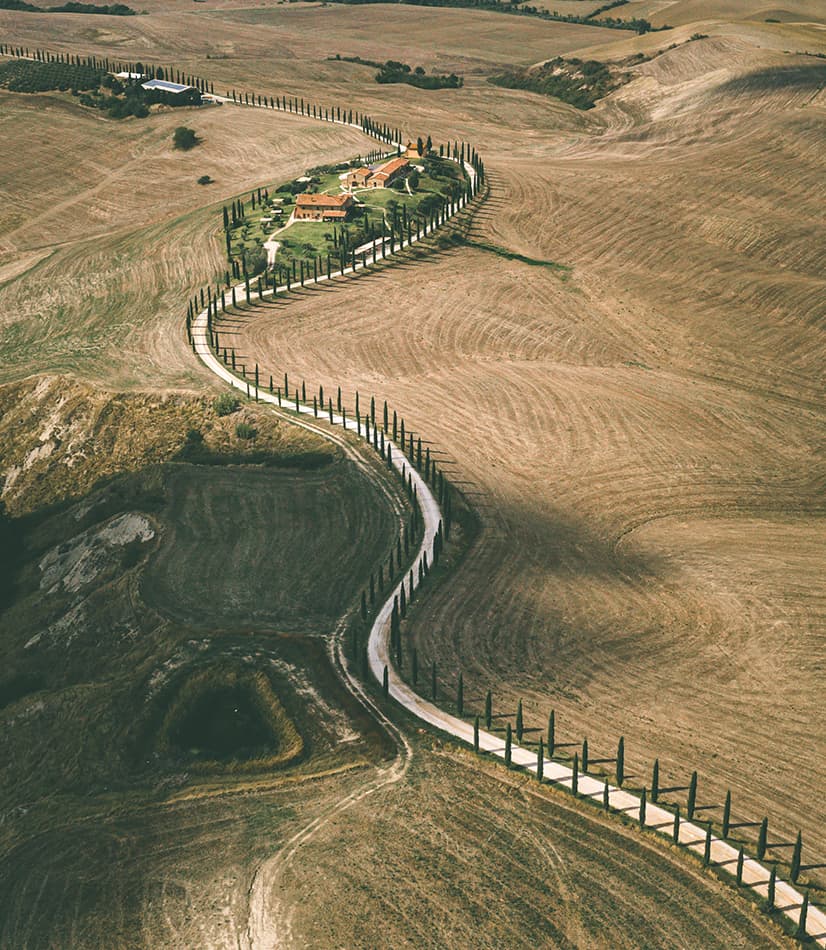 The cool-toned Teramoda glazed ceramic tiles introduce a touch of lightness that counterbalances the natural dim lighting in a wine cellar while also ensuring functionality by favoring climate-controlled conditions.

Anatolia's inviting and convivial decors tell a story that appeals to refined sensibilities.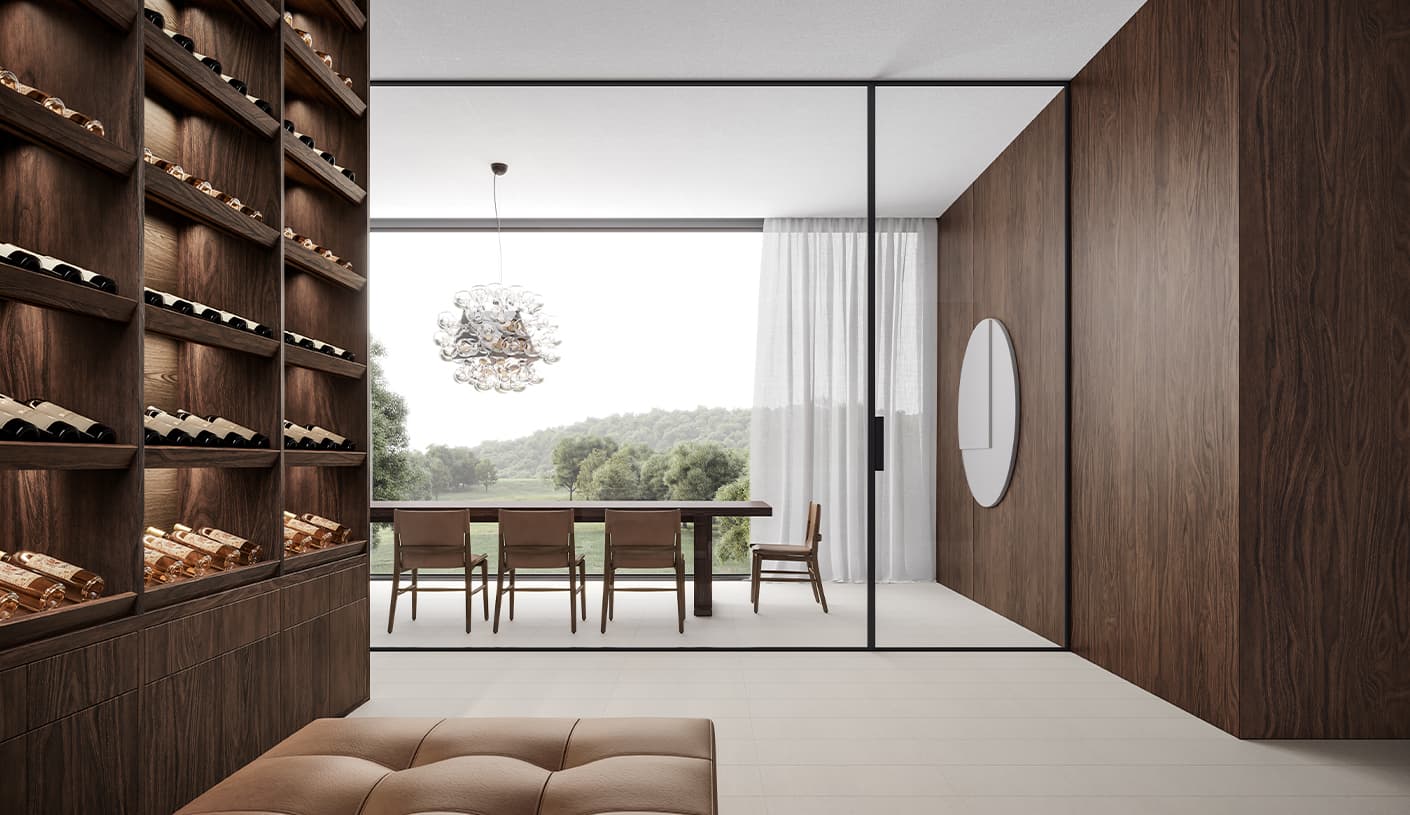 On the floor: 12 x 24 in / 30.5 x 61 cm Belgian Linen Natural Matte.
Inspired by the subtle intricacy of woven fabric, the Belgian Linen series of glazed porcelain tiles evokes an enduring warmth that elevates the subtle gradients and light veining of the Anciano Grigio marble walls. The cyclical nature of the Hydros mosaic is indicative of the ebb and flow of a tidal current, sealing the captivating elegance of the room.
From the hypnotic grains of the Aspen Sequoia glazed porcelain tiles and original Utopio Artistry Mosaic designs in natural stone to the gradient hues of the Anciano Grigio, Teramoda, and Belgian Linen collections, Anatolia's trademark creativity redefines and reinvigorates luxury decors.