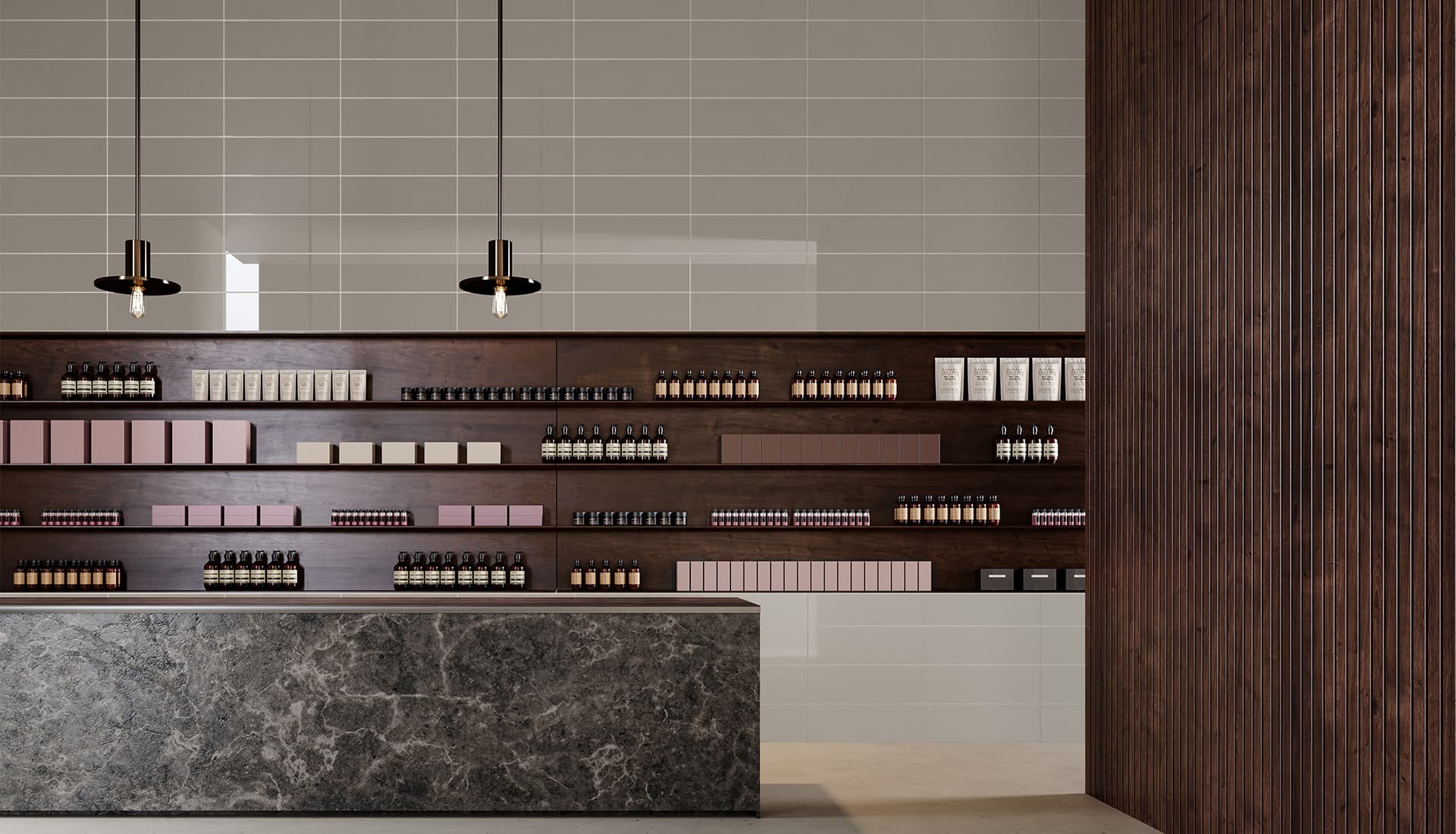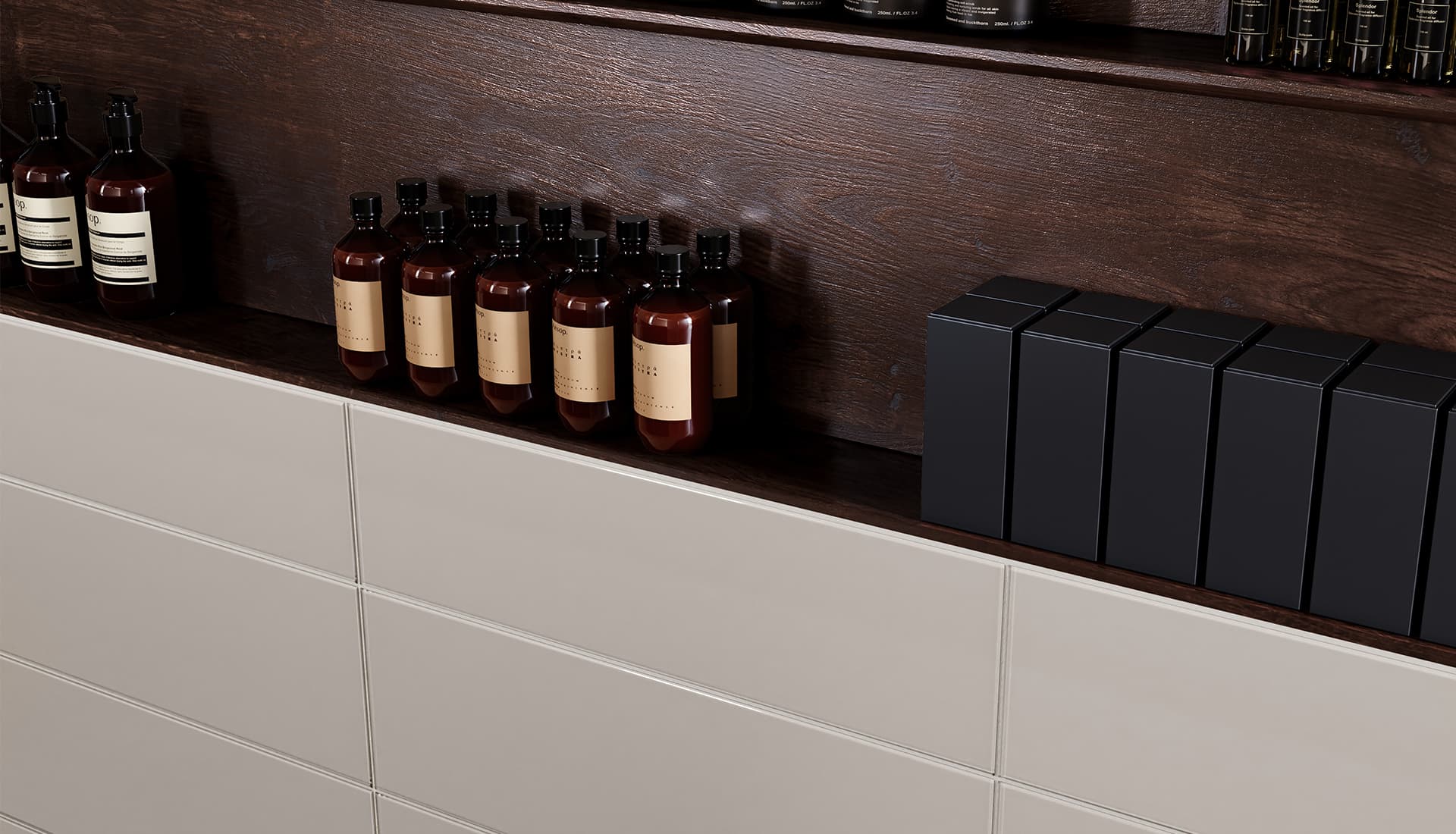 3 x 12 in / 7.3 x 29.8 cm Element Mist Glossy Glass Tile
Inspiring patterns and shapes bring a cool, calm serenity to your interior. A collection of solid color glass tiles will inspire you to create a dreamlike oasis that will beg you to come and be pampered. A wide selection of refined and complementary formats and sizes define this collection, featuring modern trends and original shapes.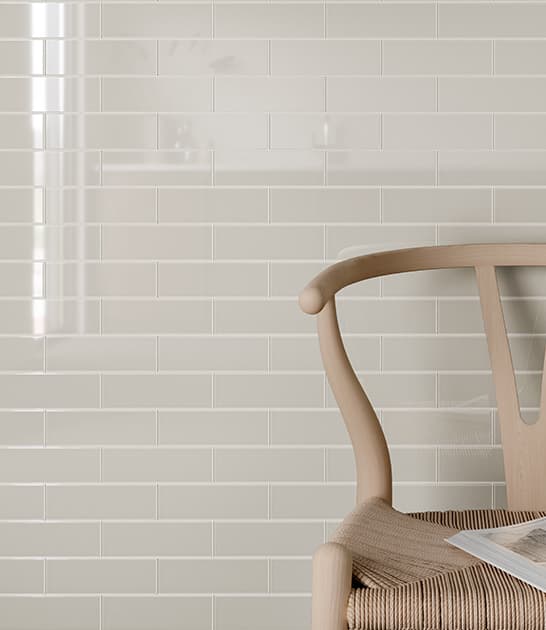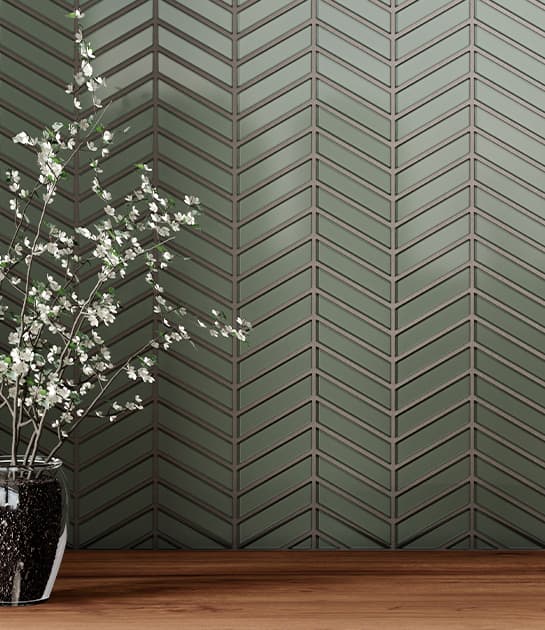 2 x 6 in / 5 x 15 cm Element Mist Brick Glossy Glass Mosaic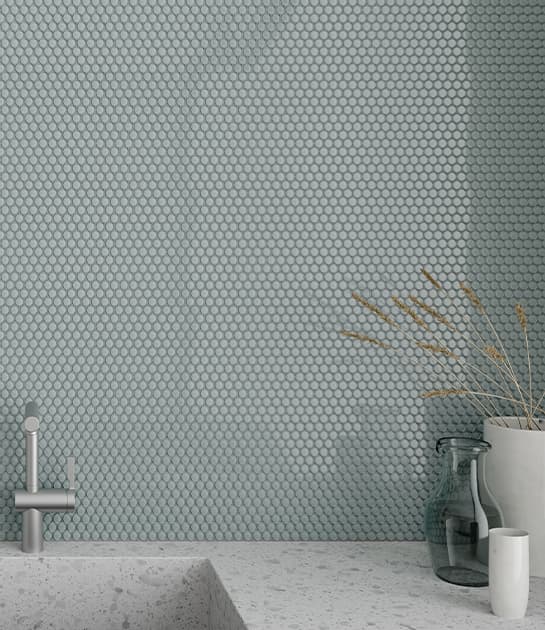 Element Shadow Penny Round Glossy Glass Mosaic
Everything is about decoration in this rich collection of creative and highly ornamental patterns.
Item codes
Element

Ice

Item code

8 x 24 in / 20 x 60 cm

Element Ice Glossy Glass Tile

8 x 24 in / 20 x 60 cm

Element Ice Tidal Glossy Glass Tile

3 x 12 in / 7.3 x 29.8 cm

Element Ice Glossy Glass Tile

3 x 12 in / 7.3 x 29.8 cm

Element Ice Artisan Glossy Glass Tile

3 x 9 in / 7.3 x 22.5 cm

Element Ice Beveled Glossy Glass Tile

2 x 6 in / 5 x 15 cm

Element Ice Brick Glossy Glass Mosaic

1.5 x 6 in / 3.8 x 15 cm

Element Ice Stacked Glossy Glass Mosaic

Element Ice Chevron Glossy Glass Mosaic

Element Ice Petal Glossy Glass Mosaic

Element Ice Scallop Glossy Glass Mosaic

Element Ice Penny Round Glossy Glass Mosaic

Element Ice Arabesque Glossy Glass Mosaic

Element Ice Random Strip Glossy Glass Mosaic
Mist

Item code

8 x 24 in / 20 x 60 cm

Element Mist Glossy Glass Tile

8 x 24 in / 20 x 60 cm

Element Mist Tidal Glossy Glass Tile

3 x 12 in / 7.3 x 29.8 cm

Element Mist Glossy Glass Tile

3 x 12 in / 7.3 x 29.8 cm

Element Mist Artisan Glossy Glass Tile

3 x 9 in / 7.3 x 22.5 cm

Element Mist Beveled Glossy Glass Tile

2 x 6 in / 5 x 15 cm

Element Mist Brick Glossy Glass Mosaic

1.5 x 6 in / 3.8 x 15 cm

Element Mist Stacked Glossy Glass Mosaic

Element Mist Chevron Glossy Glass Mosaic

Element Mist Petal Glossy Glass Mosaic

Element Mist Scallop Glossy Glass Mosaic

Element Mist Penny Round Glossy Glass Mosaic

Element Mist Arabesque Glossy Glass Mosaic

Element Mist Random Strip Glossy Glass Mosaic
Smoke

Item code

3 x 12 in / 7.3 x 29.8 cm

Element Smoke Glossy Glass Tile

3 x 12 in / 7.3 x 29.8 cm

Element Smoke Artisan Glossy Glass Tile

3 x 9 in / 7.3 x 22.5 cm

Element Smoke Beveled Glossy Glass Tile

2 x 6 in / 5 x 15 cm

Element Smoke Brick Glossy Glass Mosaic

1.5 x 6 in / 3.8 x 15 cm

Element Smoke Stacked Glossy Glass Mosaic

Element Smoke Chevron Glossy Glass Mosaic

Element Smoke Petal Glossy Glass Mosaic

Element Smoke Scallop Glossy Glass Mosaic

Element Smoke Penny Round Glossy Glass Mosaic

Element Smoke Random Strip Glossy Glass Mosaic
Earth

Item code

3 x 9 in / 7.3 x 22.5 cm

Element Earth Beveled Glossy Glass Tile

3 x 12 in / 7.3 x 29.8 cm

Element Earth Glossy Glass Tile

3 x 12 in / 7.3 x 29.8 cm

Element Earth Artisan Glossy Glass Tile

2 x 6 in / 5 x 15 cm

Element Earth Brick Glossy Glass Mosaic

1.5 x 6 in / 3.8 x 15 cm

Element Earth Stacked Glossy Glass Mosaic

Element Earth Chevron Glossy Glass Mosaic

Element Earth Petal Glossy Glass Mosaic

Element Earth Scallop Glossy Glass Mosaic

Element Earth Penny Round Glossy Glass Mosaic

Element Earth Random Strip Glossy Glass Mosaic
Sand

Item code

3 x 12 in / 7.3 x 29.8 cm

Element Sand Glossy Glass Tile

3 x 12 in / 7.3 x 29.8 cm

Element Sand Artisan Glossy Glass Tile

3 x 9 in / 7.3 x 22.5 cm

Element Sand Beveled Glossy Glass Tile

2 x 6 in / 5 x 15 cm

Element Sand Brick Glossy Glass Mosaic

1.5 x 6 in / 3.8 x 15 cm

Element Sand Stacked Glossy Glass Mosaic

Element Sand Chevron Glossy Glass Mosaic

Element Sand Petal Glossy Glass Mosaic

Element Sand Scallop Glossy Glass Mosaic

Element Sand Penny Round Glossy Glass Mosaic

Element Sand Random Strip Glossy Glass Mosaic
Cloud

Item code

3 x 12 in / 7.3 x 29.8 cm

Element Cloud Glossy Glass Tile

3 x 12 in / 7.3 x 29.8 cm

Element Cloud Artisan Glossy Glass Tile

3 x 9 in / 7.3 x 22.5 cm

Element Cloud Beveled Glossy Glass Tile

8 x 24 in / 20 x 60 cm

Element Cloud Glossy Glass Tile

8 x 24 in / 20 x 60 cm

Element Cloud Tidal Glossy Glass Tile

2 x 6 in / 5 x 15 cm

Element Cloud Brick Glossy Glass Mosaic

1.5 x 6 in / 3.8 x 15 cm

Element Cloud Stacked Glossy Glass Mosaic

Element Cloud Random Strip Glossy Glass Mosaic

Element Cloud Petal Glossy Glass Mosaic

Element Cloud Scallop Glossy Glass Mosaic

Element Cloud Penny Round Glossy Glass Mosaic

Element Cloud Arabesque Glossy Glass Mosaic

Element Cloud Chevron Glossy Glass Mosaic
Shadow

Item code

3 x 12 in / 7.3 x 29.8 cm

Element Shadow Glossy Glass Tile

3 x 12 in / 7.3 x 29.8 cm

Element Shadow Artisan Glossy Glass Tile

3 x 9 in / 7.3 x 22.5 cm

Element Shadow Beveled Glossy Glass Tile

2 x 6 in / 5 x 15 cm

Element Shadow Brick Glossy Glass Mosaic

1.5 x 6 in / 3.8 x 15 cm

Element Shadow Stacked Glossy Glass Mosaic

Element Shadow Chevron Glossy Glass Mosaic

Element Shadow Petal Glossy Glass Mosaic

Element Shadow Penny Round Glossy Glass Mosaic

Element Shadow Scallop Glossy Glass Mosaic

Element Shadow Random Strip Glossy Glass Mosaic
Skylight

Item code

3 x 12 in / 7.3 x 29.8 cm

Element Skylight Glossy Glass Tile

3 x 12 in / 7.3 x 29.8 cm

Element Skylight Artisan Glossy Glass Tile

3 x 9 in / 7.3 x 22.5 cm

Element Skylight Beveled Glossy Glass Tile

2 x 6 in / 5 x 15 cm

Element Skylight Brick Glossy Glass Mosaic

1.5 x 6 in / 3.8 x 15 cm

Element Skylight Stacked Glossy Glass Mosaic

Element Skylight Chevron Glossy Glass Mosaic

Element Skylight Petal Glossy Glass Mosaic

Element Skylight Scallop Glossy Glass Mosaic

Element Skylight Penny Round Glossy Glass Mosaic

Element Skylight Arabesque Glossy Glass Mosaic

Element Skylight Random Strip Glossy Glass Mosaic
Color Blends

Mineral Blend

Item code

Element Mineral Blend Random Strip Glossy Glass Mosaic

Element Mineral Blend Stacked Glossy Glass Mosaic
| Natural Blend | Item code |
| --- | --- |
| Element Natural Blend Random Strip Glossy Glass Mosaic | |
| Element Natural Blend Stacked Glossy Glass Mosaic | |
| Shades of Grey Blend | Item code |
| --- | --- |
| Element Grey Blend Random Strip Glossy Glass Mosaic | |
| Element Grey Blend Stacked Glossy Glass Mosaic | |