Inspired by the artsy Soho district, a rich and versatile series of retro-modern tiles and mosaics with a new contemporary color palette expressed across three segments: tiles and trims with classic shapes, mosaics, and spectacular patterned mosaics.

Tiles and trims.
The timeless appeal of a classic look reimagined with a contemporary palette.
Classic shapes, sizes, and elongated rectangles emphasize the versatility of the Soho collection. Tiles and trims now include new and more contemporary tiles and new bullnoses and quarter-round trims. Available in both matte and glossy finishes, tiles and trims are well suited for a variety of contemporary wall installations.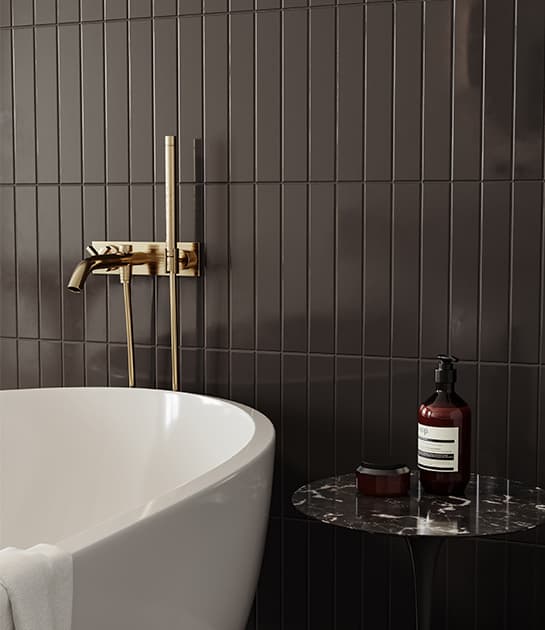 2 x 12 in / 5 x 30 cm Soho Retro Black Glossy Pressed Glazed Ceramic Tile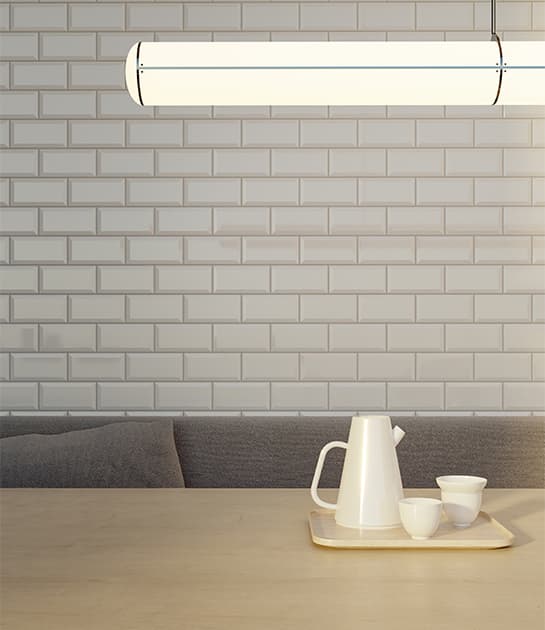 3 x 6 in / 7.5 x 15 cm Soho Canvas White Beveled Glossy Pressed Glazed Ceramic Tile
The enduring appeal of a classic tile becomes a new iconic element of contemporary interiors.
Mosaics.
Timeless design, distinctive aesthetic, and decorative versatility.
The beauty of mosaics in a modern collection, available in a wide range of shapes and refined colors. A rich and versatile series, able to infuse personality into any interior.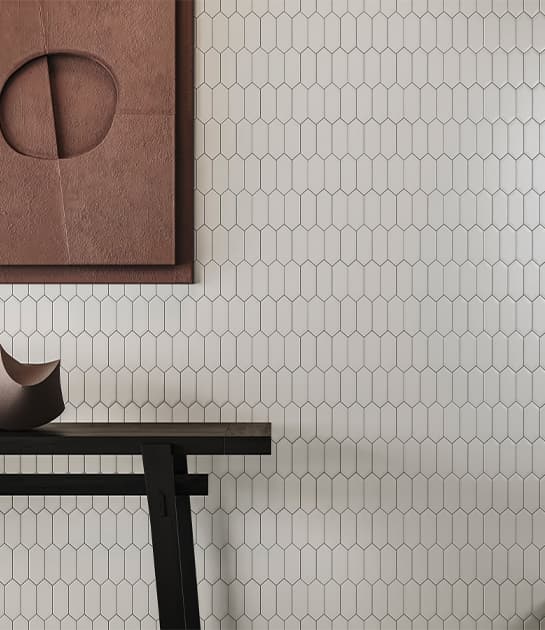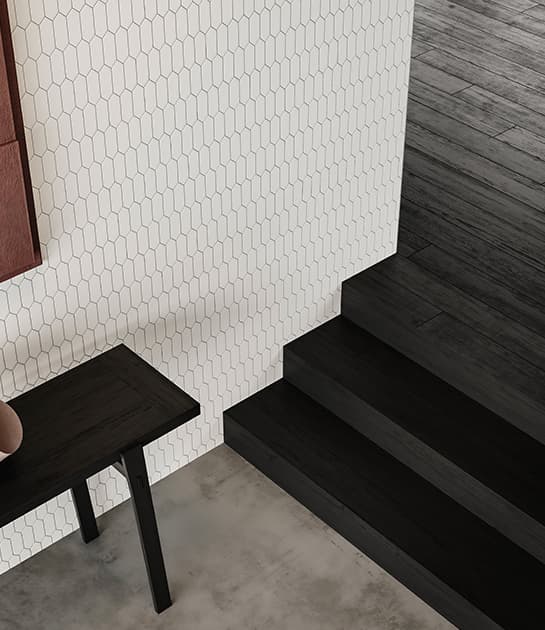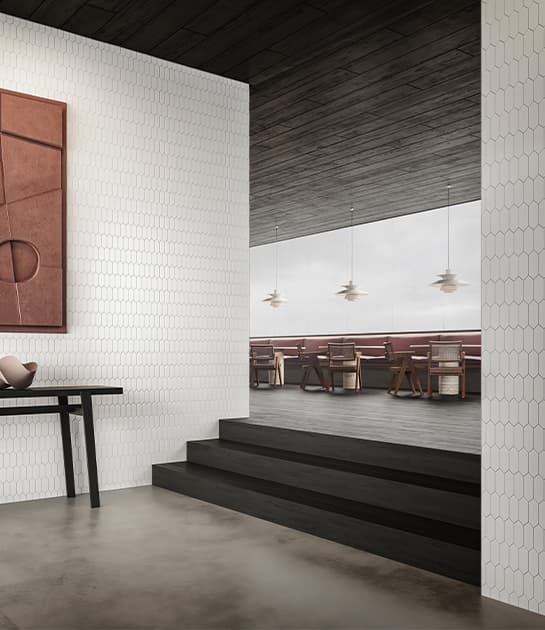 2 x 5 in / 4.6 x 12.8 cm Soho Vintage Grey Picket Matte Glazed Porcelain Mosaic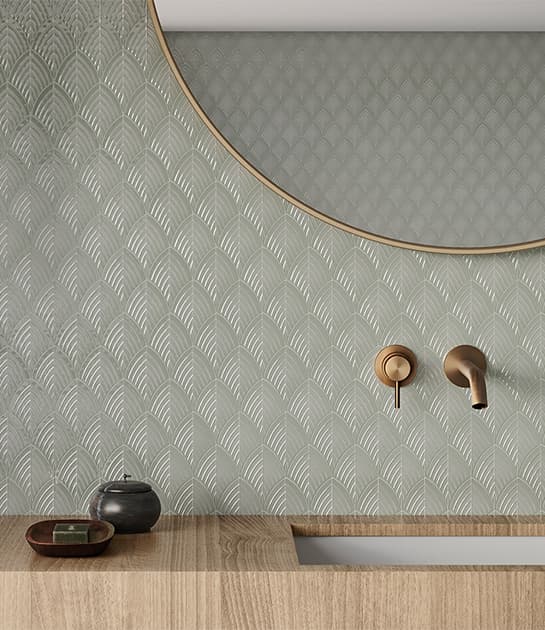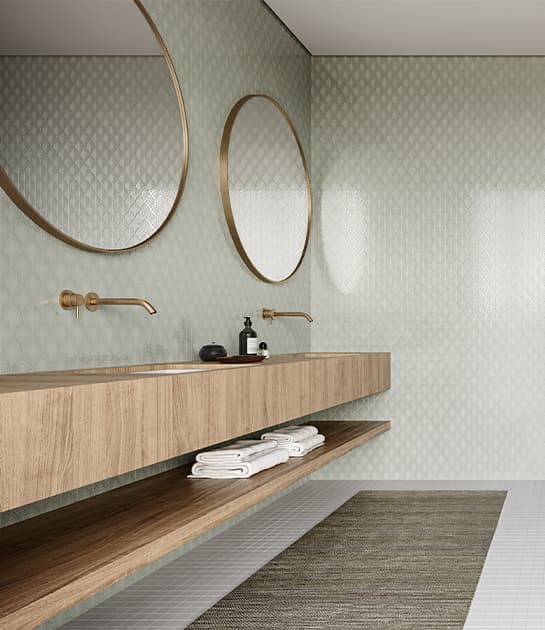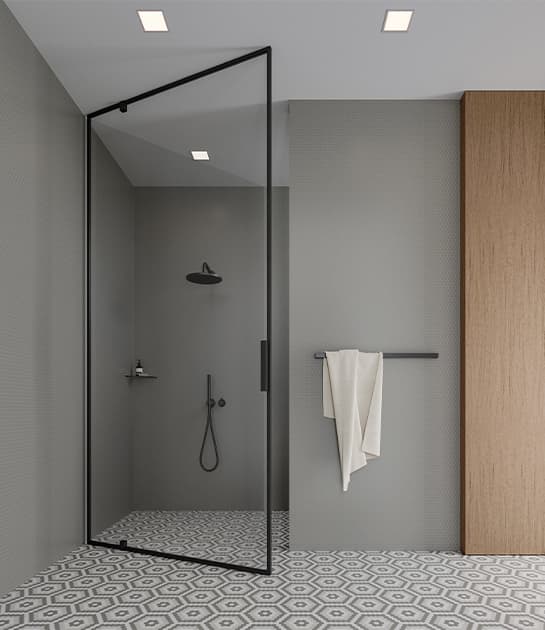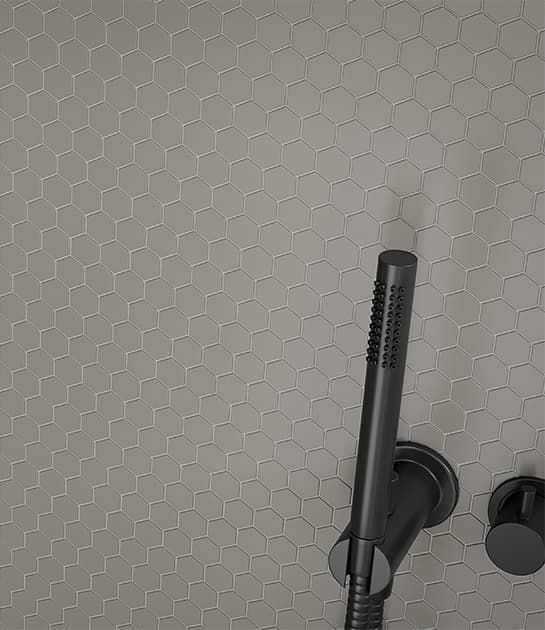 Soho Soft Sage Scallop Glossy Mosaic
Unlimited decorative possibilities in a wide range of shapes and refined colors.

Soho mosaics offer a mix of classic configurations, such as penny rounds, squares, basketweaves and hexagons, and new refined shapes, including innovative designs for the elegant and exclusive Arabesque, Scallop, Picket, and Brick shapes. Further versatility has been added with matte unglazed porcelain mosaics in limited shapes. The wide variety of both glossy and matte finishes across the collection is ideally suited for today's multifaceted contemporary wall and floor applications.



Patterned Mosaics.
A new panorama of decor.
Sophisticated color combinations and exclusive patterns are offered through a refined collection of Patterned mosaics. They add great interest to large spaces or locations that are looking to add a classic accent to an interior design space on either the wall or floor.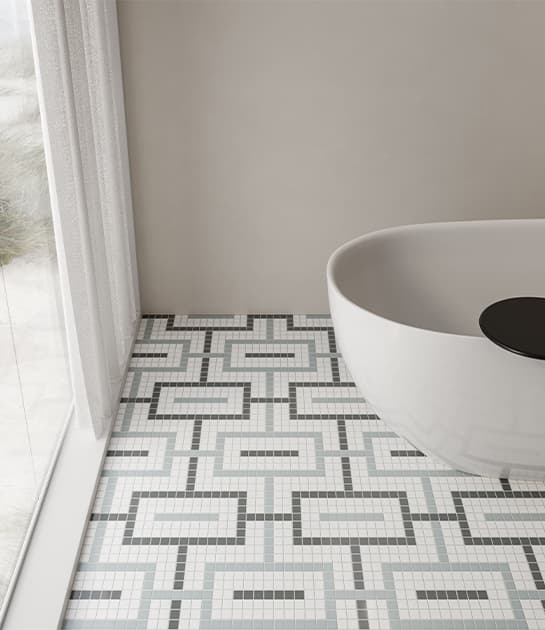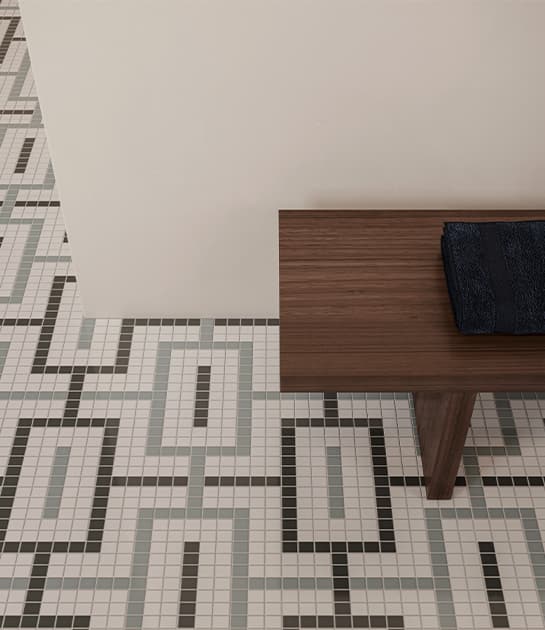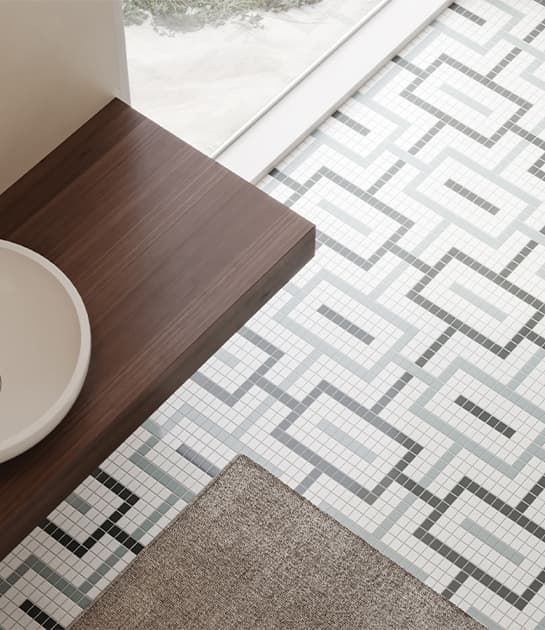 Soho Dawn Blend Chain Matte Glazed Porcelain Mosaic
The Soho collection offers a rich and modern variety of colors, sizes, and configurations, available in both matte and glossy finishes.
Our design department's goal was to create the utmost elegant and sophisticated product, a perfect blend of functionality and style. New technical aspects, innovative shapes, and a new color palette were designed to represent the vibrant and lively nature of metropolitan city life, inspired by its culture and history.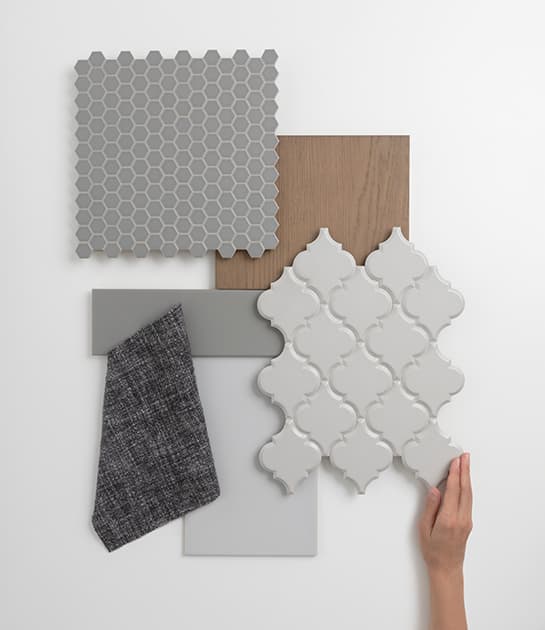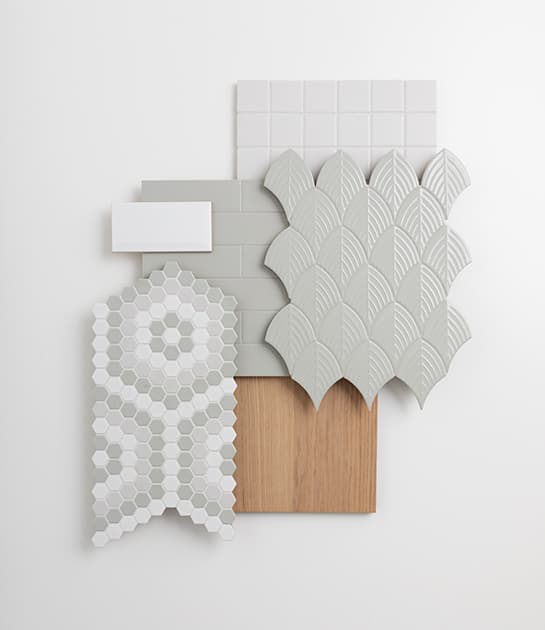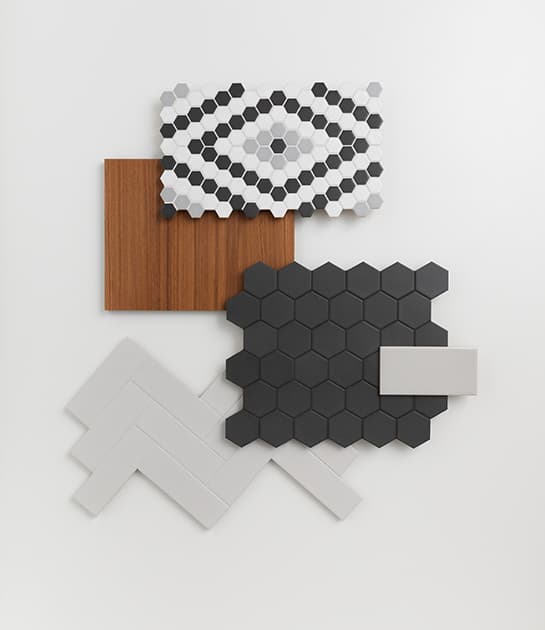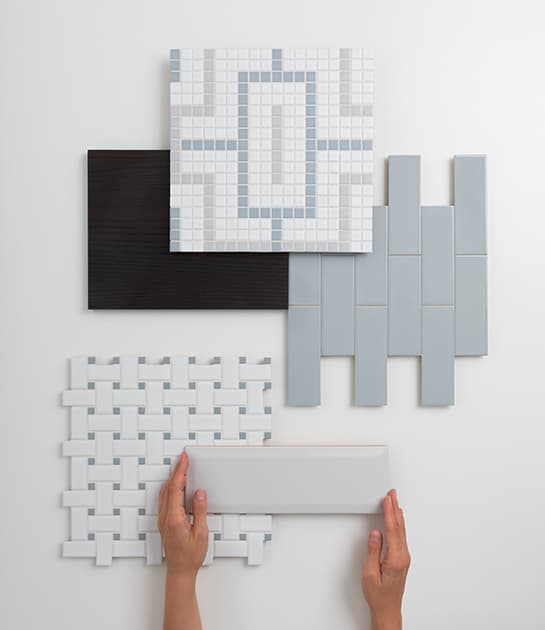 Item codes
Soho, Tiles and Trims

Canvas White

Item code

8 x 24 in / 20 x 60 cm

Soho Canvas White Glossy Pressed Ceramic Tile

8 x 16 in / 20 x 40 cm

Soho Canvas White Glossy Pressed Ceramic Tile

6 x 6 in / 15 x 15 cm

Soho Canvas White Glossy Pressed Ceramic Tile

4 x 16 in / 10 x 40 cm

Soho Canvas White Glossy Pressed Ceramic Tile

4 x 16 in / 10 x 40 cm

Soho Canvas White Matte Pressed Ceramic Tile

4 x 12 in / 10 x 30 cm

Soho Canvas White Glossy Pressed Ceramic Tile

4 x 12 in / 10 x 30 cm

Soho Canvas White Beveled Glossy Ceramic Tile

2 x 12 in / 5 x 30 cm

Soho Canvas White Glossy Glazed Ceramic Tile

2 x 12 in / 5 x 30 cm

Soho Canvas White Matte Glazed Ceramic Tile

3 x 6 in / 7.5 x 15 cm

Soho Canvas White Glossy Pressed Ceramic Tile

3 x 6 in / 7.5 x 15 cm

Soho Canvas White Matte Pressed Ceramic Tile

3 x 6 in / 7.5 x 15 cm

Soho Canvas White Beveled Glossy Pressed Ceramic Tile

2 x 8 in / 5 x 20 cm

Soho Canvas White Glossy Ceramic Bullnose

2 x 8 in / 5 x 20 cm

Soho Canvas White Matte Ceramic Bullnose

2 x 6 in / 5 x 15 cm

Soho Canvas White Glossy Ceramic Bullnose

2 x 6 in / 5 x 15 cm

Soho Canvas White Matte Ceramic Bullnose

12 in / 30 cm

Soho Canvas White Glossy Ceramic Quarter Round

12 in / 30 cm

Soho Canvas White Matte Ceramic Quarter Round
Vintage Grey

Item code

8 x 24 in / 20 x 60 cm

Soho Vintage Grey Glossy Pressed Ceramic Tile

8 x 16 in / 20 x 40 cm

Soho Vintage Grey Glossy Pressed Ceramic Tile

4 x 16 in / 10 x 40 cm

Soho Vintage Grey Glossy Pressed Ceramic Tile

4 x 16 in / 10 x 40 cm

Soho Vintage Grey Matte Pressed Ceramic Tile

4 x 12 in / 10 x 30 cm

Soho Vintage Grey Glossy Pressed Ceramic Tile

4 x 12 in / 10 x 30 cm

Soho Vintage Grey Beveled Glossy Pressed Ceramic Tile

2 x 12 in / 5 x 30 cm

Soho Vintage Grey Glossy Pressed Ceramic Tile

2 x 12 in / 5 x 30 cm

Soho Vintage Grey Matte Pressed Ceramic Tile

3 x 6 in / 7.5 x 15 cm

Soho Vintage Grey Glossy Pressed Ceramic Tile

2 x 8 in / 5 x 20 cm

Soho Vintage Grey Glossy Ceramic Bullnose

2 x 8 in / 5 x 20 cm

Soho Vintage Grey Matte Ceramic Bullnose

2 x 6 in / 5 x 15 cm

Soho Vintage Grey Glossy Ceramic Bullnose

12 in / 30 cm

Soho Vintage Grey Glossy Ceramic Quarter Round

12 in / 30 cm

Soho Vintage Grey Matte Ceramic Quarter Round
Gallery Grey

Item code

8 x 24 in / 20 x 60 cm

Soho Gallery Grey Glossy Pressed Ceramic Tile

8 x 16 in / 20 x 40 cm

Soho Gallery Grey Glossy Pressed Ceramic Tile

4 x 16 in / 10 x 40 cm

Soho Gallery Grey Glossy Pressed Ceramic Tile

4 x 16 in / 10 x 40 cm

Soho Gallery Grey Matte Pressed Ceramic Tile

4 x 12 in / 10 x 30 cm

Soho Gallery Grey Glossy Pressed Ceramic Tile

4 x 12 in / 10 x 30 cm

Soho Gallery Grey Beveled Glossy Pressed Ceramic Tile

2 x 12 in / 5 x 30 cm

Soho Gallery Grey Glossy Pressed Ceramic Tile

2 x 12 in / 5 x 30 cm

Soho Gallery Grey Matte Pressed Ceramic Tile

3 x 6 in / 7.5 x 15 cm

Soho Gallery Grey Glossy Pressed Ceramic Tile

2 x 8 in / 5 x 20 cm

Soho Gallery Grey Glossy Ceramic Bullnose

2 x 8 in / 5 x 20 cm

Soho Gallery Grey Matte Ceramic Bullnose

2 x 6 in / 5 x 15 cm

Soho Gallery Grey Glossy Ceramic Bullnose

12 in / 30 cm

Soho Gallery Grey Glossy Ceramic Quarter Round

12 in / 30 cm

Soho Gallery Grey Matte Ceramic Quarter Round
Halo Grey

Item code

4 x 16 in / 10 x 40 cm

Soho Halo Grey Glossy Pressed Ceramic Tile

4 x 16 in / 10 x 40 cm

Soho Halo Grey Matte Pressed Ceramic Tile

2 x 12 in / 5 x 30 cm

Soho Halo Grey Glossy Pressed Ceramic Tile

2 x 12 in / 5 x 30 cm

Soho Halo Grey Matte Pressed Ceramic Tile

3 x 6 in / 7.5 x 15 cm

Soho Halo Grey Glossy Pressed Ceramic Tile

2 x 8 in / 5 x 20 cm

Soho Halo Grey Glossy Ceramic Bullnose

2 x 8 in / 5 x 20 cm

Soho Halo Grey Matte Ceramic Bullnose

2 x 6 in / 5 x 15 cm

Soho Halo Grey Glossy Ceramic Bullnose

12 in / 30 cm

Soho Halo Grey Glossy Ceramic Quarter Round

12 in / 30 cm

Soho Halo Grey Matte Ceramic Quarter Round
Loft Grey

Item code

4 x 16 in / 10 x 40 cm

Soho Loft Grey Glossy Pressed Ceramic Tile

4 x 16 in / 10 x 40 cm

Soho Loft Grey Matte Pressed Ceramic Tile

2 x 12 in / 5 x 30 cm

Soho Loft Grey Glossy Pressed Ceramic Tile

2 x 12 in / 5 x 30 cm

Soho Loft Grey Matte Pressed Ceramic Tile

3 x 6 in / 7.5 x 15 cm

Soho Loft Grey Glossy Pressed Ceramic Tile

2 x 8 in / 5 x 20 cm

Soho Loft Grey Glossy Ceramic Bullnose

2 x 8 in / 5 x 20 cm

Soho Loft Grey Matte Ceramic Bullnose

2 x 6 in / 5 x 15 cm

Soho Loft Grey Glossy Ceramic Bullnose

12 in / 30 cm

Soho Loft Grey Glossy Ceramic Quarter Round

12 in / 30 cm

Soho Loft Grey Matte Ceramic Quarter Round
Cement Chic

Item code

4 x 16 in / 10 x 40 cm

Soho Cement Chic Glossy Pressed Ceramic Tile

4 x 16 in / 10 x 40 cm

Soho Cement Chic Matte Pressed Ceramic Tile

2 x 12 in / 5 x 30 cm

Soho Cement Chic Glossy Pressed Ceramic Tile

2 x 12 in / 5 x 30 cm

Soho Cement Chic Matte Pressed Ceramic Tile

3 x 6 in / 7.5 x 15 cm

Soho Cement Chic Glossy Pressed Ceramic Tile

2 x 8 in / 5 x 20 cm

Soho Cement Chic Glossy Ceramic Bullnose

2 x 8 in / 5 x 20 cm

Soho Cement Chic Matte Ceramic Bullnose

2 x 6 in / 5 x 15 cm

Soho Cement Chic Glossy Ceramic Bullnose

12 in / 30 cm

Soho Cement Chic Glossy Ceramic Quarter Round

12 in / 30 cm

Soho Cement Chic Matte Ceramic Quarter Round
Retro Black

Item code

4 x 16 in / 10 x 40 cm

Soho Retro Black Glossy Pressed Ceramic Tile

4 x 16 in / 10 x 40 cm

Soho Retro Black Matte Pressed Ceramic Tile

2 x 12 in / 5 x 30 cm

Soho Retro Black Glossy Pressed Ceramic Tile

2 x 12 in / 5 x 30 cm

Soho Retro Black Matte Pressed Ceramic Tile

3 x 6 in / 7.5 x 15 cm

Soho Retro Black Glossy Pressed Ceramic Tile

2 x 8 in / 5 x 20 cm

Soho Retro Black Glossy Ceramic Bullnose

2 x 6 in / 5 x 15 cm

Soho Retro Black Glossy Ceramic Bullnose

12 in / 30 cm

Soho Retro Black Glossy Ceramic Quarter Round

12 in / 30 cm

Soho Retro Black Matte Ceramic Quarter Round
Soft Sage

Item code

4 x 16 in / 10 x 40 cm

Soho Soft Sage Glossy Pressed Ceramic Tile

4 x 16 in / 10 x 40 cm

Soho Soft Sage Matte Pressed Ceramic Tile

2 x 12 in / 5 x 30 cm

Soho Soft Sage Glossy Pressed Ceramic Tile

2 x 12 in / 5 x 30 cm

Soho Soft Sage Matte Pressed Ceramic Tile

3 x 6 in / 7.5 x 15 cm

Soho Soft Sage Glossy Pressed Ceramic Tile

2 x 8 in / 5 x 20 cm

Soho Soft Sage Glossy Ceramic Bullnose

2 x 6 in / 5 x 15 cm

Soho Soft Sage Glossy Ceramic Bullnose

12 in / 30 cm

Soho Soft Sage Glossy Ceramic Quarter Round

12 in / 30 cm

Soho Soft Sage Matte Ceramic Quarter Round
Cloud Blue

Item code

4 x 16 in / 10 x 40 cm

Soho Cloud Blue Glossy Pressed Ceramic Tile

4 x 16 in / 10 x 40 cm

Soho Cloud Blue Matte Pressed Ceramic Tile

2 x 12 in / 5 x 30 cm

Soho Cloud Blue Glossy Pressed Ceramic Tile

2 x 12 in / 5 x 30 cm

Soho Cloud Blue Matte Pressed Ceramic Tile

3 x 6 in / 7.5 x 15 cm

Soho Cloud Blue Glossy Pressed Ceramic Tile

2 x 8 in / 5 x 20 cm

Soho Cloud Blue Glossy Ceramic Bullnose

2 x 8 in / 5 x 20 cm

Soho Cloud Blue Matte Ceramic Bullnose

2 x 6 in / 5 x 15 cm

Soho Cloud Blue Glossy Ceramic Bullnose

12 in / 30 cm

Soho Cloud Blue Glossy Ceramic Quarter Round

12 in / 30 cm

Soho Cloud Blue Matte Ceramic Quarter Round
Soho, Mosaics

Canvas White

Item code

2 x 2 in / 4.8 x 4.8 cm

Soho Canvas White Matte Glazed Porcelain Mosaic

3/4 in / 1.9 cm

Soho Canvas White Penny Round Matte Glazed Porcelain Mosaic

3/4 in / 1.9 cm

Soho Canvas White Penny Round Glossy Glazed Porcelain Mosaic

1 in / 2.3 cm Hexagon

Soho Canvas White Hexagon Matte Glazed Porcelain Mosaic

2 in / 5.1 cm

Soho Canvas White Hexagon Matte Glazed Porcelain Mosaic

2 x 5 in / 4.6 x 12.8 cm

Soho Canvas White Picket Glossy Glazed Porcelain Mosaic

2 x 5 in / 4.6 x 12.8 cm

Soho Canvas White Picket Matte Glazed Porcelain Mosaic

2 x 6 in / 4.8 x 14.8 cm

Soho Canvas White Brick Glossy Glazed Porcelain Mosaic

2 x 6 in / 4.8 x 14.8 cm

Soho Canvas White Brick Matte Glazed Porcelain Mosaic

2 x 6 in / 4.8 x 14.8 cm

Soho Canvas White Herringbone Glossy Glazed Porcelain Mosaic

2 x 6 in / 4.8 x 14.8 cm

Soho Canvas White Herringbone Matte Glazed Porcelain Mosaic

Soho Canvas White Scallop Glossy Glazed Porcelain Mosaic

Soho Canvas White Beveled Arabesque Glossy Glazed Porcelain Mosaic
Vintage Grey

Item code

2 x 2 in / 4.8 x 4.8 cm

Soho Vintage Grey Matte Glazed Porcelain Mosaic

2 x 2 in / 4.8 x 4.8 cm

Soho Vintage Grey Matte Unglazed Porcelain Mosaic

3/4 in / 1.9 cm

Soho Vintage Grey Penny Round Glossy Glazed Porcelain Mosaic

3/4 in / 1.9 cm

Soho Vintage Grey Penny Round Matte Glazed Porcelain Mosaic

1 in / 2.3 cm

Soho Vintage Grey Hexagon Matte Glazed Porcelain Mosaic

2 in / 5.1 cm

Soho Vintage Grey Hexagon Matte Glazed Porcelain Mosaic

2 in / 5.1 cm

Soho Vintage Grey Hexagon Matte Unglazed Porcelain Mosaic

2 x 5 in / 4.6 x 12.8 cm

Soho Vintage Grey Picket Glossy Porcelain Mosaic

2 x 5 in / 4.6 x 12.8 cm

Soho Vintage Grey Picket Matte Porcelain Mosaic

2 x 6 in / 4.8 x 14.8 cm

Soho Vintage Grey Brick Glossy Porcelain Mosaic

2 x 6 in / 4.8 x 14.8 cm

Soho Vintage Grey Brick Matte Porcelain Mosaic

2 x 6 in / 4.8 x 14.8 cm

Soho Vintage Grey Herringbone Glossy Porcelain Mosaic

2 x 6 in / 4.8 x 14.8 cm

Soho Vintage Grey Herringbone Matte Porcelain Mosaic

Soho Vintage Grey Scallop Glossy Porcelain Mosaic

Soho Vintage Grey Beveled Arabesque Glossy Porcelain Mosaic
Gallery Grey

Item code

2 x 2 in / 4.8 x 4.8 cm

Soho Gallery Grey Matte Glazed Porcelain Mosaic

2 x 2 in / 4.8 x 4.8 cm

Soho Gallery Grey Matte Unglazed Porcelain Mosaic

3/4 in / 1.9 cm

Soho Gallery Grey Penny Round Glossy Glazed Porcelain Mosaic

3/4 in / 1.9 cm

Soho Gallery Grey Penny Round Matte Glazed Porcelain Mosaic

1 in / 2.3 cm

Soho Gallery Grey Hexagon Matte Glazed Porcelain Mosaic

2 in / 5.1 cm

Soho Gallery Grey Hexagon Matte Glazed Porcelain Mosaic

2 in / 5.1 cm

Soho Gallery Grey Hexagon Matte Unglazed Porcelain Mosaic

2 x 5 in / 4.6 x 12.8 cm

Soho Gallery Grey Picket Glossy Glazed Porcelain Mosaic

2 x 5 in / 4.6 x 12.8 cm

Soho Gallery Grey Picket Matte Glazed Porcelain Mosaic

2 x 6 in / 4.8 x 14.8 cm

Soho Gallery Grey Brick Glossy Glazed Porcelain Mosaic

2 x 6 in / 4.8 x 14.8 cm

Soho Gallery Grey Brick Matte Glazed Porcelain Mosaic

2 x 6 in / 4.8 x 14.8 cm

Soho Gallery Grey Herringbone Glossy Glazed Porcelain Mosaic

2 x 6 in / 4.8 x 14.8 cm

Soho Gallery Grey Herringbone Matte Glazed Porcelain Mosaic

Soho Gallery Grey Scallop Glossy Glazed Porcelain Mosaic

Soho Gallery Grey Beveled Arabesque Glossy Glazed Porcelain Mosaic
Halo Grey

Item code

2 x 2 in / 4.8 x 4.8 cm

Soho Halo Grey Matte Glazed Porcelain Mosaic

2 x 2 in / 4.8 x 4.8 cm

Soho Halo Grey Matte Unglazed Porcelain Mosaic

3/4 in / 1.9 cm

Soho Halo Grey Penny Round Glossy Glazed Porcelain Mosaic

3/4 in / 1.9 cm

Soho Halo Grey Penny Round Matte Glazed Porcelain Mosaic

1 in / 2.3 cm

Soho Halo Grey Hexagon Matte Glazed Porcelain Mosaic

2 in / 5.1 cm

Soho Halo Grey Hexagon Matte Glazed Porcelain Mosaic

2 in / 5.1 cm

Soho Halo Grey Hexagon Matte Unglazed Porcelain Mosaic

2 x 5 in / 4.6 x 12.8 cm

Soho Halo Grey Picket Glossy Glazed Porcelain Mosaic

2 x 5 in / 4.6 x 12.8 cm

Soho Halo Grey Picket Matte Glazed Porcelain Mosaic

2 x 6 in / 4.8 x 14.8 cm

Soho Halo Grey Brick Glossy Glazed Porcelain Mosaic

2 x 6 in / 4.8 x 14.8 cm

Soho Halo Grey Brick Matte Glazed Porcelain Mosaic

2 x 6 in / 4.8 x 14.8 cm

Soho Halo Grey Herringbone Glossy Glazed Porcelain Mosaic

2 x 6 in / 4.8 x 14.8 cm

Soho Halo Grey Herringbone Matte Glazed Porcelain Mosaic

Soho Halo Grey Scallop Glossy Glazed Porcelain Mosaic

Soho Halo Grey Beveled Arabesque Glossy Glazed Porcelain Mosaic
Loft Grey

Item code

2 x 2 in / 4.8 x 4.8 cm

Soho Loft Grey Matte Glazed Porcelain Mosaic

3/4 in / 1.9 cm

Soho Loft Grey Penny Round Glossy Glazed Porcelain Mosaic

3/4 in / 1.9 cm

Soho Loft Grey Penny Round Matte Glazed Porcelain Mosaic

1 in / 2.3 cm

Soho Loft Grey Hexagon Matte Glazed Porcelain Mosaic

2 in / 5.1 cm

Soho Loft Grey Hexagon Matte Glazed Porcelain Mosaic

2 x 5 in / 4.6 x 12.8 cm

Soho Loft Grey Picket Glossy Glazed Porcelain Mosaic

2 x 5 in / 4.6 x 12.8 cm

Soho Loft Grey Picket Matte Glazed Porcelain Mosaic

2 x 6 in / 4.8 x 14.8 cm

Soho Loft Grey Brick Glossy Glazed Porcelain Mosaic

2 x 6 in / 4.8 x 14.8 cm

Soho Loft Grey Brick Matte Glazed Porcelain Mosaic

2 x 6 in / 4.8 x 14.8 cm

Soho Loft Grey Herringbone Glossy Glazed Porcelain Mosaic

2 x 6 in / 4.8 x 14.8 cm

Soho Loft Grey Herringbone Matte Glazed Porcelain Mosaic

Soho Loft Grey Scallop Glossy Glazed Porcelain Mosaic

Soho Loft Grey Beveled Arabesque Glossy Glazed Porcelain Mosaic

Soho Canvas White w/ Loft Grey Dot Basketweave Matte Glazed Porcelain Mosaic

1 in / 2.3 cm

Soho Canvas White w/ Loft Grey Hexagon Matte Glazed Porcelain Mosaic
Cement Chic

Item code

2 x 2 in / 4.8 x 4.8 cm

Soho Cement Chic Matte Glazed Porcelain Mosaic

3/4 in / 1.9 cm

Soho Cement Chic Penny Round Glossy Glazed Porcelain Mosaic

3/4 in / 1.9 cm

Soho Cement Chic Penny Round Matte Glazed Porcelain Mosaic

1 in / 2.3 cm

Soho Cement Chic Hexagon Matte Glazed Porcelain Mosaic

2 in / 5.1 cm

Soho Cement Chic Hexagon Matte Glazed Porcelain Mosaic

2 x 5 in / 4.6 x 12.8 cm

Soho Cement Chic Picket Glossy Glazed Porcelain Mosaic

2 x 5 in / 4.6 x 12.8 cm

Soho Cement Chic Picket Matte Glazed Porcelain Mosaic

2 x 6 in / 4.8 x 14.8 cm

Soho Cement Chic Brick Glossy Glazed Porcelain Mosaic

2 x 6 in / 4.8 x 14.8 cm

Soho Cement Chic Brick Matte Glazed Porcelain Mosaic

2 x 6 in / 4.8 x 14.8 cm

Soho Cement Chic Herringbone Glossy Glazed Porcelain Mosaic

2 x 6 in / 4.8 x 14.8 cm

Soho Cement Chic Herringbone Matte Glazed Porcelain Mosaic

Soho Canvas White w/ Cement Chic Dot Basketweave Matte Glazed Porcelain Mosaic

1 in / 2.3 cm

Soho Canvas White w/ Cement Chic Hexagon Matte Glazed Porcelain Mosaic
Retro Black

Item code

2 x 2 in / 4.8 x 4.8 cm

Soho Retro Black Matte Glazed Porcelain Mosaic

2 x 2 in / 4.8 x 4.8 cm

Soho Retro Black Matte Unglazed Porcelain Mosaic

3/4 in / 1.9 cm

Soho Retro Black Penny Round Glossy Glazed Porcelain Mosaic

3/4 in / 1.9 cm

Soho Retro Black Penny Round Matte Glazed Porcelain Mosaic

1 in / 2.3 cm

Soho Retro Black Hexagon Matte Glazed Porcelain Mosaic

2 in / 5.1 cm

Soho Retro Black Hexagon Matte Glazed Porcelain Mosaic

2 in / 5.1 cm

Soho Retro Black Hexagon Matte Unglazed Porcelain Mosaic

2 x 5 in / 4.6 x 12.8 cm

Soho Retro Black Picket Glossy Glazed Porcelain Mosaic

2 x 5 in / 4.6 x 12.8 cm

Soho Retro Black Picket Matte Glazed Porcelain Mosaic

2 x 6 in / 4.8 x 14.8 cm

Soho Retro Black Brick Glossy Glazed Porcelain Mosaic

2 x 6 in / 4.8 x 14.8 cm

Soho Retro Black Brick Matte Glazed Porcelain Mosaic

2 x 6 in / 4.8 x 14.8 cm

Soho Retro Black Herringbone Glossy Glazed Porcelain Mosaic

2 x 6 in / 4.8 x 14.8 cm

Soho Retro Black Herringbone Matte Glazed Porcelain Mosaic

Soho Canvas White w/ Retro Black Dot Basketweave Matte Glazed Porcelain Mosaic

1 in / 2.3 cm

Soho Canvas White w/ Retro Black Hexagon Matte Glazed Porcelain Mosaic
Soft Sage

Item code

3/4 in / 1.9 cm

Soho Soft Sage Penny Round Glossy Glazed Porcelain Mosaic

3/4 in / 1.9 cm

Soho Soft Sage Penny Round Matte Glazed Porcelain Mosaic

2 in / 5.1 cm

Soho Soft Sage Hexagon Matte Glazed Porcelain Mosaic

2 x 6 in / 4.8 x 14.8 cm

Soho Soft Sage Brick Glossy Glazed Porcelain Mosaic

2 x 6 in / 4.8 x 14.8 cm

Soho Soft Sage Brick Matte Glazed Porcelain Mosaic

2 x 6 in / 4.8 x 14.8 cm

Soho Soft Sage Herringbone Glossy Glazed Porcelain Mosaic

2 x 6 in / 4.8 x 14.8 cm

Soho Soft Sage Herringbone Matte Glazed Porcelain Mosaic

Soho Soft Sage Scallop Glossy Glazed Porcelain Mosaic

Soho Soft Sage Beveled Arabesque Glossy Glazed Porcelain Mosaic

Soho Canvas White w/ Soft Sage Dot Basketweave Matte Glazed Porcelain Mosaic

1 in / 2.3 cm

Soho Canvas White w/ Soft Sage Hexagon Matte Glazed Porcelain Mosaic
Cloud Blue

Item code

3/4 in / 1.9 cm

Soho Cloud Blue Penny Round Glossy Glazed Porcelain Mosaic

3/4 in / 1.9 cm

Soho Cloud Blue Penny Round Matte Glazed Porcelain Mosaic

2 in / 5.1 cm

Soho Cloud Blue Hexagon Matte Glazed Porcelain Mosaic

2 x 6 in / 4.8 x 14.8 cm

Soho Cloud Blue Brick Glossy Glazed Porcelain Mosaic

2 x 6 in / 4.8 x 14.8 cm

Soho Cloud Blue Brick Matte Glazed Porcelain Mosaic

2 x 6 in / 4.8 x 14.8 cm

Soho Cloud Blue Herringbone Glossy Glazed Porcelain Mosaic

2 x 6 in / 4.8 x 14.8 cm

Soho Cloud Blue Herringbone Matte Glazed Porcelain Mosaic

Soho Cloud Blue Scallop Glossy Glazed Porcelain Mosaic

Soho Cloud Blue Beveled Arabesque Glossy Glazed Porcelain Mosaic

Soho Canvas White w/ Cloud Blue Dot Basketweave Matte Glazed Porcelain Mosaic

1 in / 2.3 cm

Soho Canvas White w/ Cloud Blue Hexagon Matte Glazed Porcelain Mosaic
Soho, Patterned Blends

Morning Blend

Item code

Soho Morning Blend Plaid Matte Porcelain Mosaic

Soho Morning Blend Chain Matte Porcelain Mosaic

Soho Morning Blend Cubic Matte Porcelain Mosaic

Soho Morning Blend Hexagon Matte Porcelain Mosaic

Soho Morning Blend Diamond Matte Porcelain Mosaic
| Afternoon Blend | Item code |
| --- | --- |
| Soho Afternoon Blend Plaid Matte Porcelain Mosaic | |
| Soho Afternoon Blend Chain Matte Porcelain Mosaic | |
| Soho Afternoon Blend Cubic Matte Porcelain Mosaic | |
| Soho Afternoon Blend Hexagon Matte Porcelain Mosaic | |
| Soho Afternoon Blend Diamond Matte Porcelain Mosaic | |
| Evening Blend | Item code |
| --- | --- |
| Soho Evening Blend Plaid Matte Porcelain Mosaic | |
| Soho Evening Blend Chain Matte Porcelain Mosaic | |
| Soho Evening Blend Cubic Matte Porcelain Mosaic | |
| Soho Evening Blend Hexagon Matte Porcelain Mosaic | |
| Soho Evening Blend Diamond Matte Porcelain Mosaic | |
| Midnight Blend | Item code |
| --- | --- |
| Soho Midnight Blend Plaid Matte Porcelain Mosaic | |
| Soho Midnight Blend Chain Matte Porcelain Mosaic | |
| Soho Midnight Blend Cubic Matte Porcelain Mosaic | |
| Soho Midnight Blend Hexagon Matte Porcelain Mosaic | |
| Soho Midnight Blend Diamond Matte Porcelain Mosaic | |
| Dawn Blend | Item code |
| --- | --- |
| Soho Dawn Blend Plaid Matte Porcelain Mosaic | |
| Soho Dawn Blend Chain Matte Porcelain Mosaic | |
| Soho Dawn Blend Cubic Matte Porcelain Mosaic | |
| Soho Dawn Blend Hexagon Matte Porcelain Mosaic | |
| Soho Dawn Blend Diamond Matte Porcelain Mosaic | |