Coverings 2023, Four days. Multiple Collections. Endless Inspiration.
An ode to enduring elegance and luxury. Orlando, Florida, USA, April 18 - 21.
back to editorial
Anatolia recently reprised its adventure at Coverings 2023 following last year's success. Held in sun-soaked Florida, the fair was a successful showcase of our hallmark collections and an invaluable opportunity to share our sophisticated aesthetic vision.
Our booth was a journey into the World of Anatolia, weaving together tiles and mosaics in a wide range of colors, finishes, textures, and motifs that exemplify Anatolia's commitment to excellence. Our sleek room configurations and thoughtfully curated snapshots of various decor arrangements offered an immersive experience for clients seeking timeless luxury design solutions.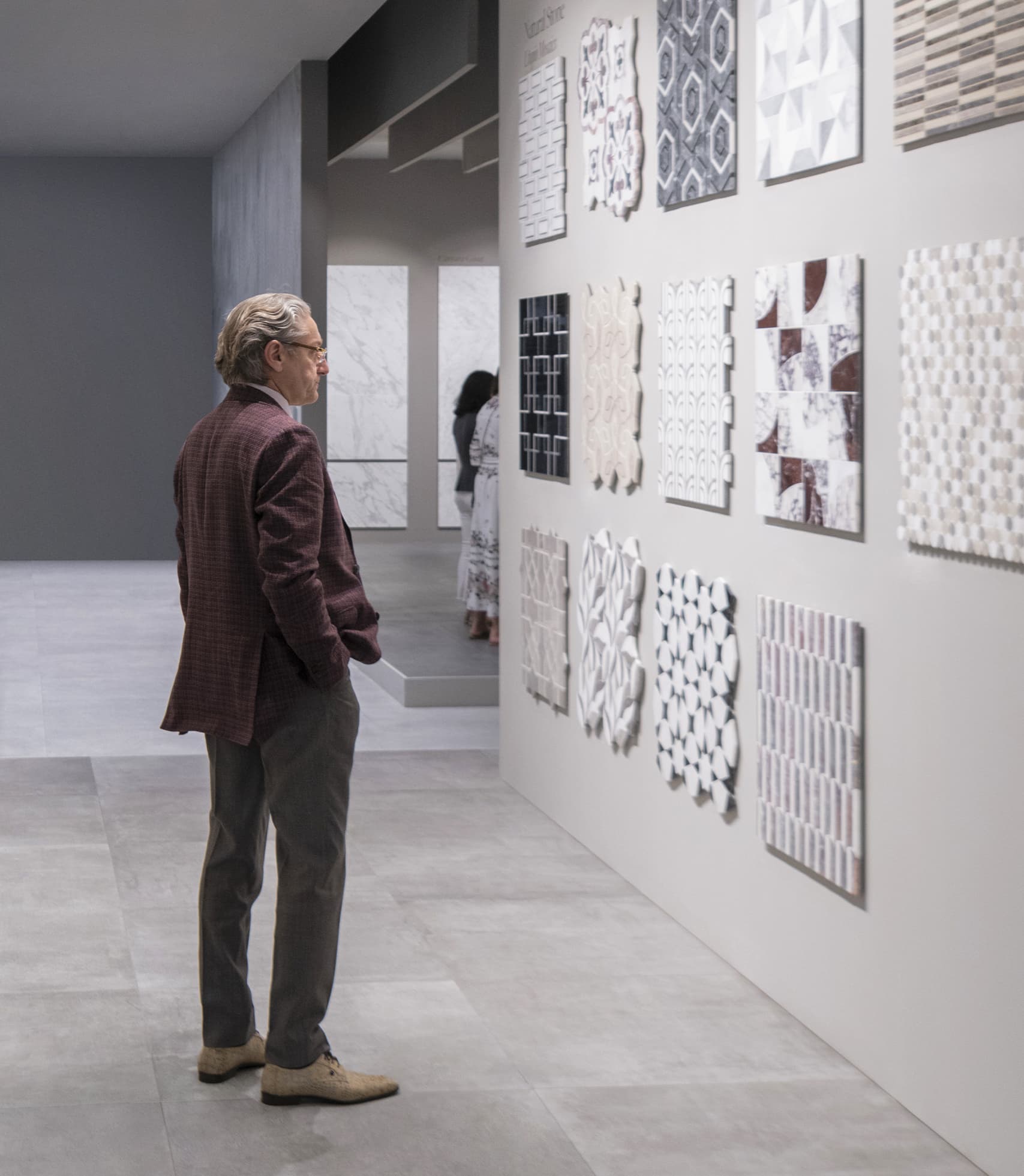 Natural Stone Utopio Artistry Mosaics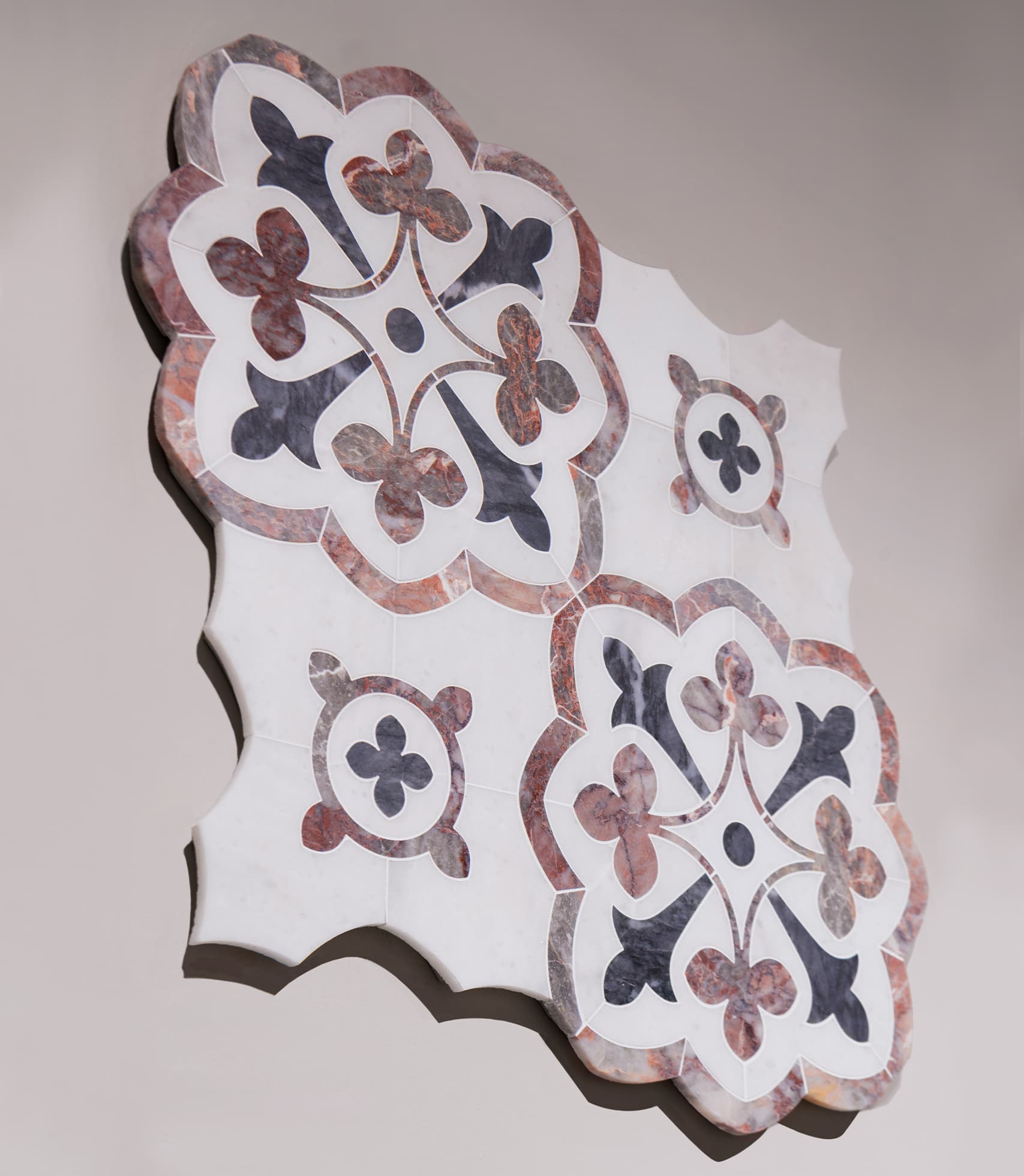 Natural Stone Utopio Artistry Mosaic, Fleur Blush
Taking center stage were our classic and new collections of Natural Stone mosaics and tiles. With great enthusiasm, Anatolia showcased its newest series Utopio Artistry Mosaics, breathtaking natural stone mosaics with intricate and colorful geometric designs that draw inspiration from a variety of styles. Available in 14 different patterns and a wide array of color combinations, the patterns range from traditional and Art Deco to modern and minimalist. Evoking a sense of rigorous precision, these sublime mosaics will undoubtedly become the focal point of any decor with their timeless and impeccable production.
Evoking tradition with a modern twist, one tile at a time.
La Marca Collection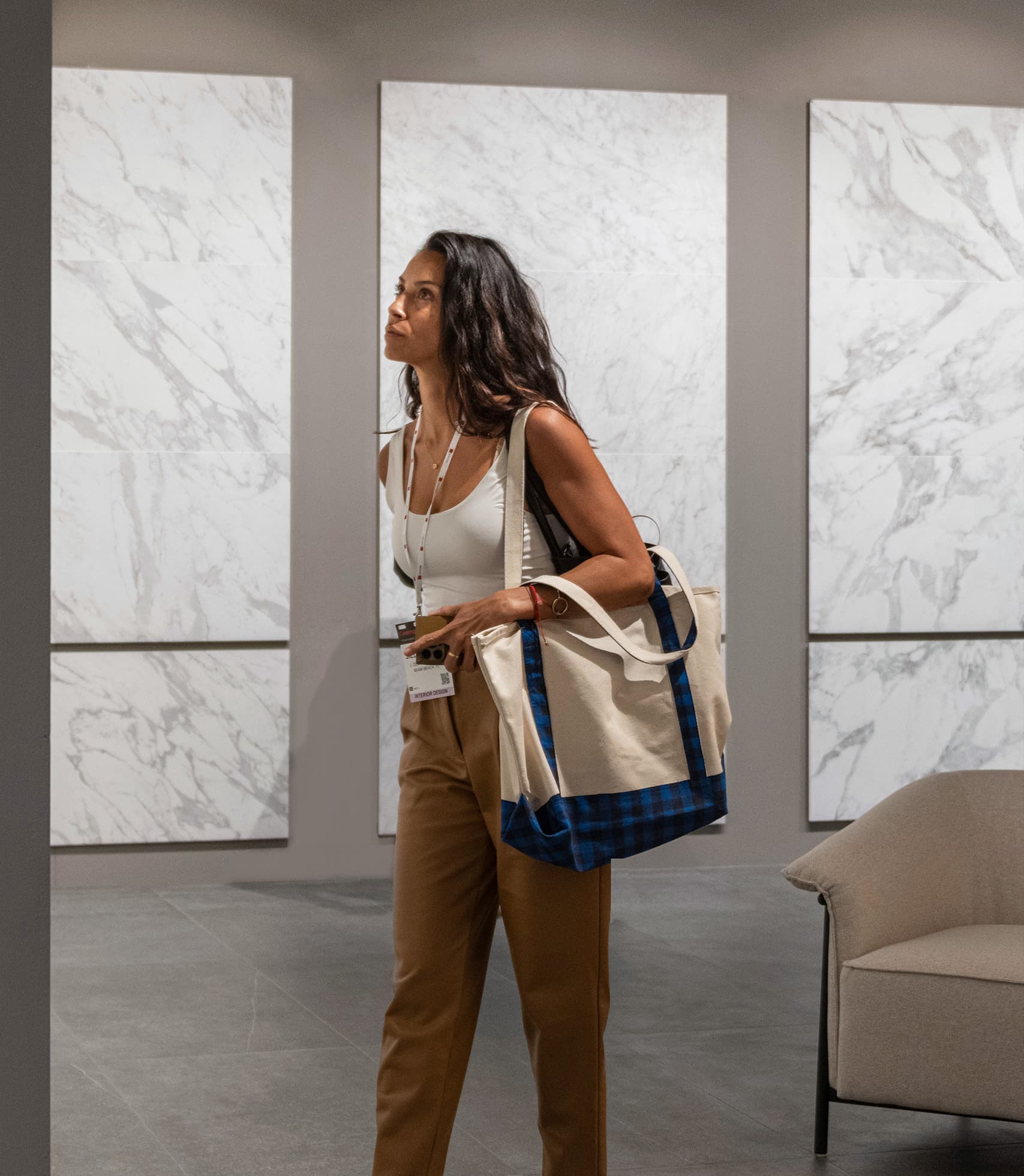 From bathroom decors and cafe corners to fireplace nooks and libraries, the natural hues and dynamic patterns of our collections revealed a captivating kaleidoscope of textures. Among them was La Marca, an exclusive collection of ultra-realistic marble designs executed in glazed porcelain. Richly interpreted with superb detail, from the depth of color to shade rendering, the patterns featured for the waterjet mosaics juxtapose delicate veining with contrasting gradient backgrounds and finishes to celebrate the universal beauty of the world's most premium marbles. Available in 9 designs and 11 formats, La Marca collection allows for an endless array of decor applications that will suit any style.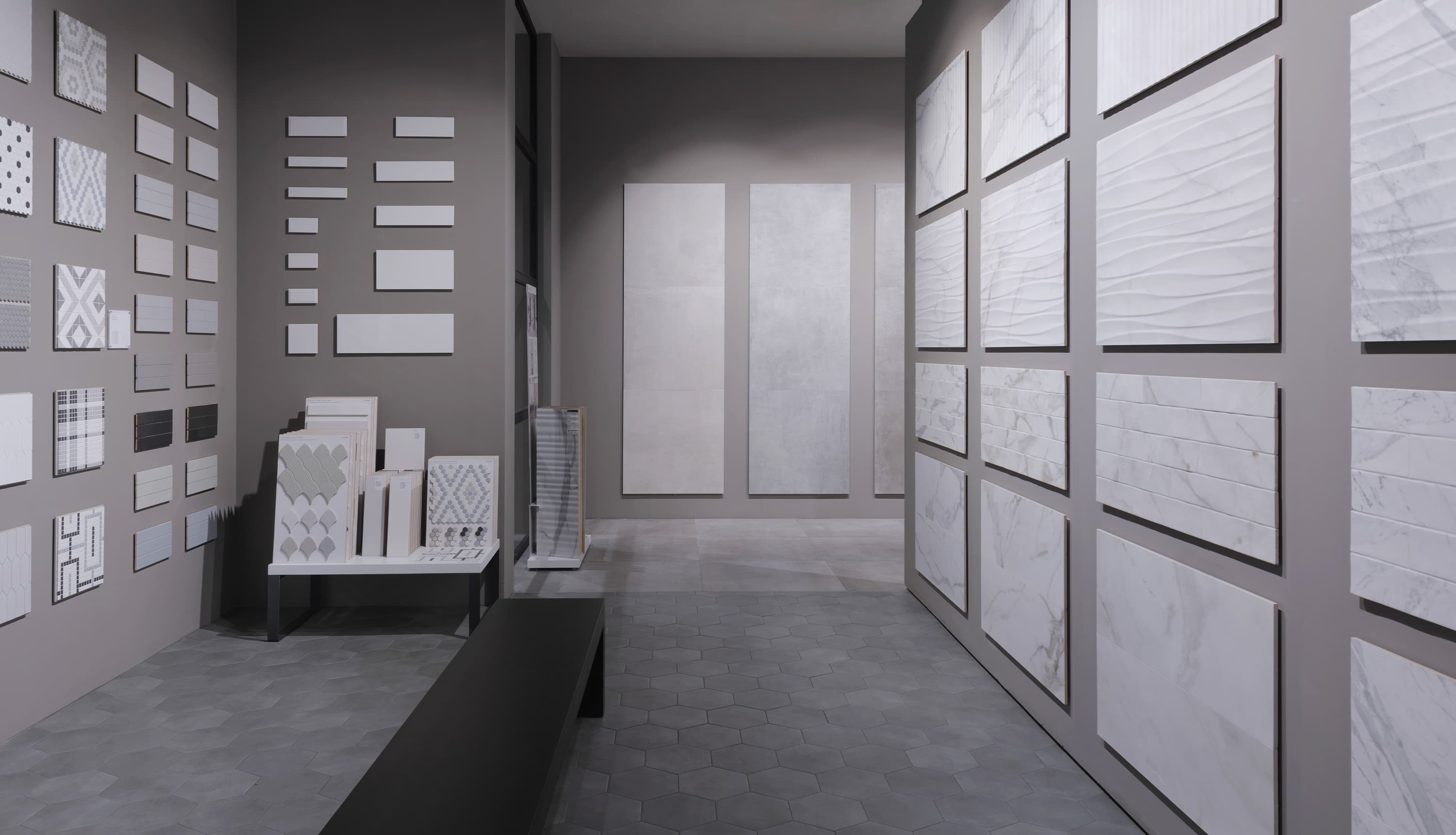 Right wall: Raffino Collection. Left wall: Soho Collection. Back wall: Industria.
Raffino, premium marble designs combined with elegant three-dimensional patterns that reveal sophisticated arrangements. The beauty of this design is best showcased as a backdrop for smooth and sleek elements while its earthy nuances and neutral colors are easily adaptable to luxe, elegant design spaces.
Tapestri, a modern interpretation of encaustic tiles, and Soho, a playful collection of tiles and mosaics inspired by the modern cityscape, also made an appearance. Their delicate and inviting color palette dominated by neutral colors, earthy blue, grays, and green offer soothing yet versatile aesthetics that suit various design styles and uses.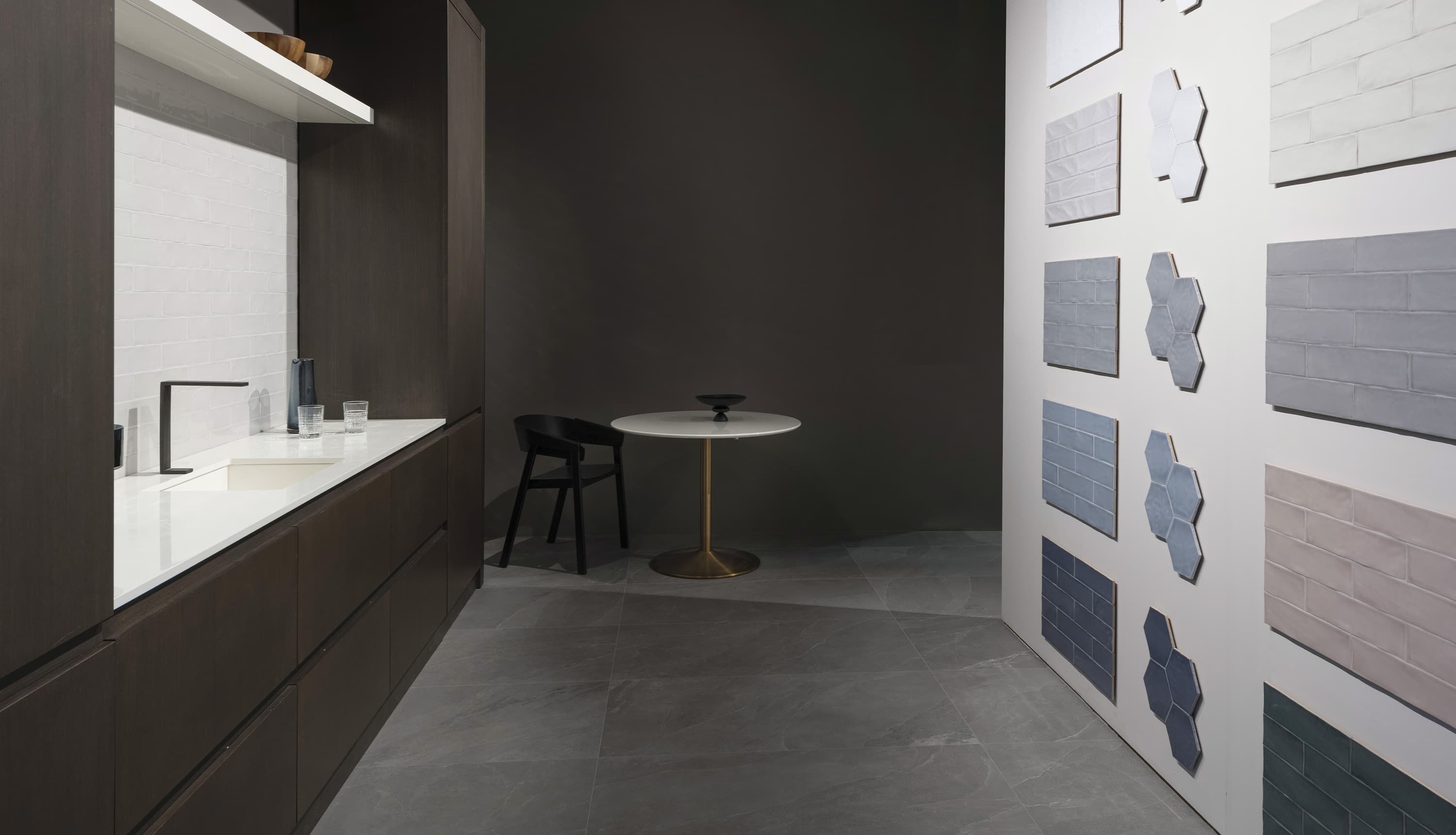 Teramoda Collection
Additional flagship collections filled the space, creating an inviting ambiance that drew in visitors. Mjörk, porcelain tiles merging the look of bush-hammered Piasentina limestone with crisp quartz veining, never fails to captivate. The expressive character of limestone and gentle nuances and color gradients are the hallmarks of an aesthetic that fits naturally into contemporary and natural spaces.
Teramoda, a collection of perfectly irregular wall tiles inspired by the artisanal feel of handmade ceramics. Available in 3 formats and 10 different colors ranging from white and grey to petal pink and ink blue, their effortless simplicity and versatility evoke the nostalgic elegance of handmade tiles. This sublime series will undoubtedly create timeless backdrops for kitchen or bathroom decors of any style thanks to their impeccable production.
Attention to detail at every turn.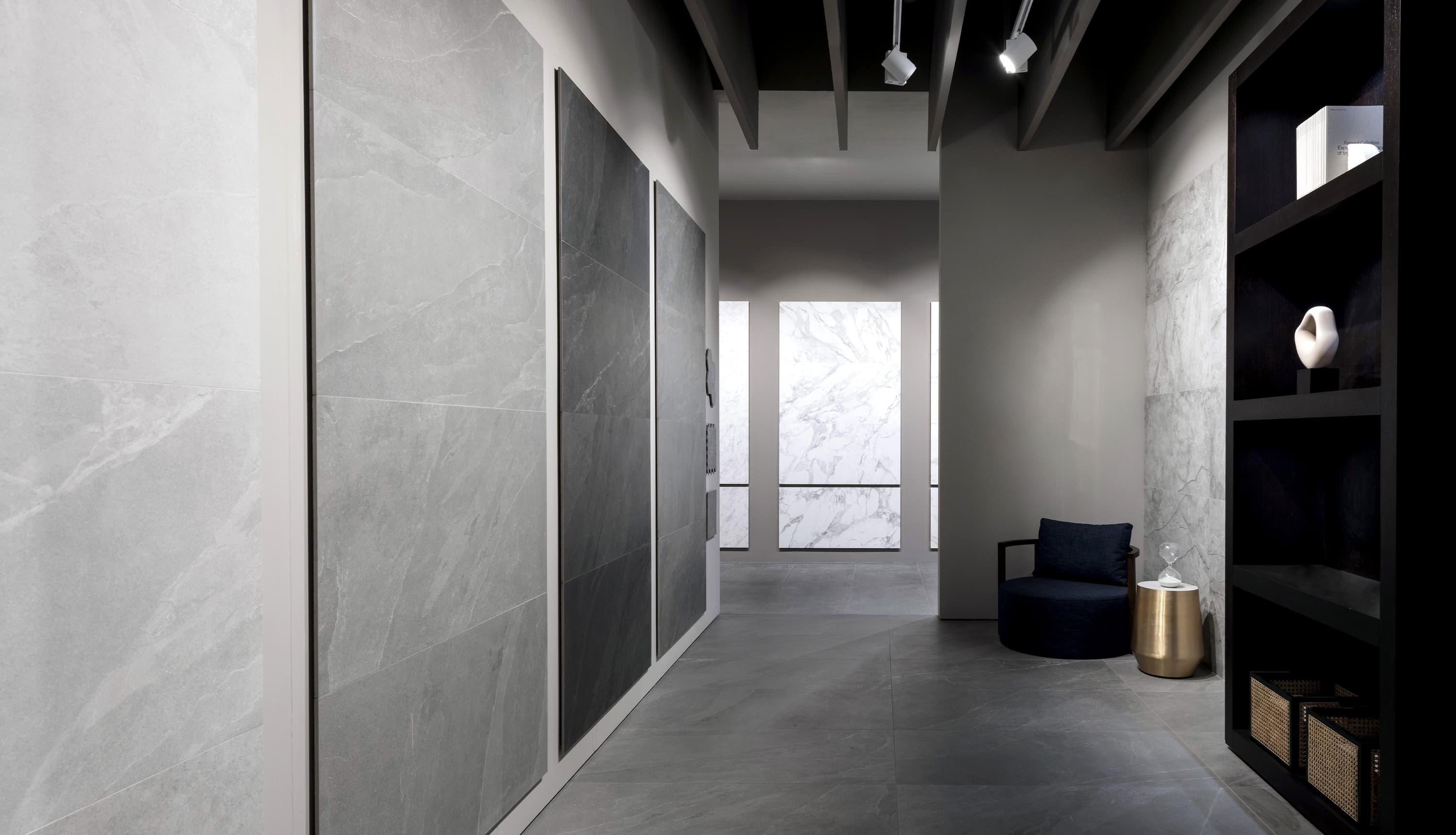 Left wall: Nord Collection
What an opportunity to present the best that Anatolia has to offer! Thank you to all those who traveled far and wide for the incredible turnout. It has been a pleasure to share our vision and spend time with visitors eager to discover our products and explore new partnerships. Until next year!