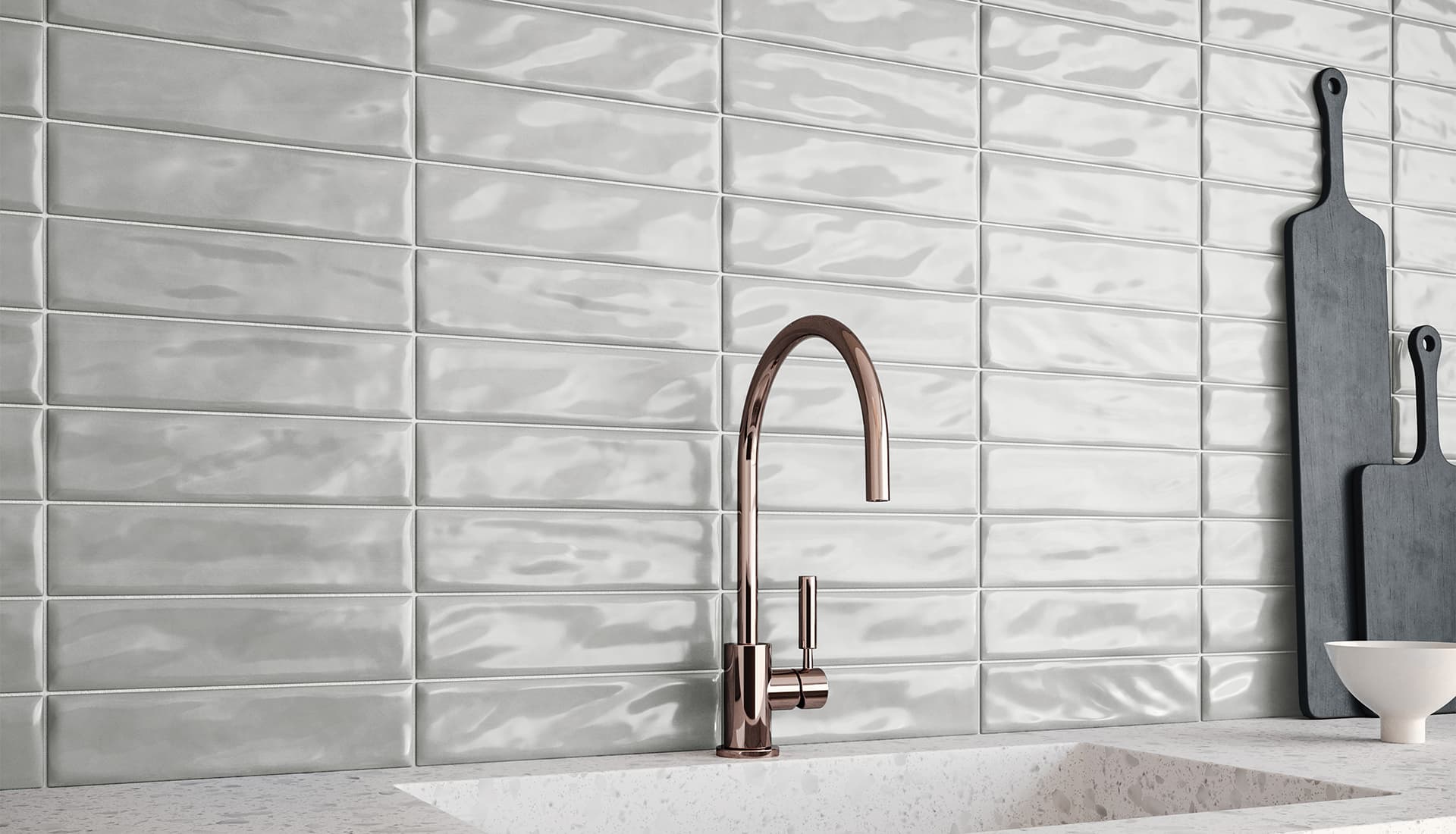 3 x 12 in / 7.5 x 30 cm Marlow Tide Glossy Pressed Glazed Ceramic Tile
Since the turn of the 20th century, small format rectangular tiles have been a staple for bathrooms, both residentially and commercially. Looking back at the luxury and timelessness of those handmade designs, we present Marlow. A reflective and undulated surface, irregular edge, and a classic neutral color palette perfect for most interiors.

Marlow, the contemporary subway tile with an artisanal surface expression. 
Item codes
Marlow

Cloud

Item code

3 x 12 in / 7.5 x 30 cm

Marlow Cloud Glossy Pressed Tile

3 x 12 in / 7.5 x 30 cm

Marlow Cloud Matte Pressed Tile

3 x 6 in / 7.5 x 15 cm

Marlow Cloud Glossy Pressed Tile

3 x 6 in / 7.5 x 15 cm

Marlow Cloud Matte Pressed Tile

12 in / 30 cm

Marlow Cloud Glossy Quarter Round

12 in / 30 cm

Marlow Cloud Matte Quarter Round
Mist

Item code

3 x 12 in / 7.5 x 30 cm

3 x 12 in Marlow Mist Glossy Pressed Tile

3 x 6 in / 7.5 x 15 cm

3 x 6 in Marlow Mist Glossy Pressed Tile

12 in / 30 cm

Marlow Mist Glossy Quarter Round
Smoke

Item code

3 x 12 in / 7.5 x 30 cm

3 x 12 in Marlow Smoke Glossy Pressed Tile

3 x 6 in / 7.5 x 15 cm

3 x 6 in Marlow Smoke Glossy Pressed Tile

12 in / 30 cm

Marlow Smoke Glossy Quarter Round
Desert

Item code

3 x 12 in / 7.5 x 30 cm

3 x 12 in Marlow Desert Glossy Pressed Tile

3 x 6 in / 7.5 x 15 cm

3 x 6 in Marlow Desert Glossy Pressed Tile

12 in / 30 cm

Marlow Desert Glossy Quarter Round
Earth

Item code

3 x 12 in / 7.5 x 30 cm

3 x 12 in Marlow Earth Glossy Pressed Tile

3 x 6 in / 7.5 x 15 cm

3 x 6 in Marlow Earth Glossy Pressed Tile

12 in / 30 cm

Marlow Earth Glossy Quarter Round
Tide

Item code

3 x 12 in / 7.5 x 30 cm

Marlow Tide Glossy Pressed Tile

3 x 6 in / 7.5 x 15 cm

Marlow Tide Glossy Pressed Tile

12 in / 30 cm

Marlow Tide Glossy Quarter Round